Crown Motors joined the Suzuki GB franchise with the opening of a new dealership location within its existing Honda showroom in Hendon, North London.
The family-run retail group, which operates Honda dealerships in Hendon, North London, and Bushey Heath, Watford, opened its new site this week.
It has reconfigured its Honda retail site on Hyde Estate Road, Hendon, to accommodate the new facility.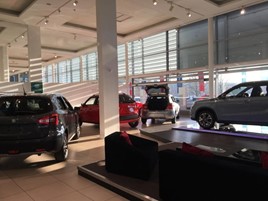 Suzuki GB network development manager, Steve Prew, took to LinkedIn to welcome the new operation to the Honda network this week.
He said: "Crown Suzuki on the Edgware Road in #london have delivered a stunning new addition to the #suzuki network - it was a delight to visit you today and see the result of two years of planning - welcome aboard."
Led by directors Lee Monahan and Tim Dibbs, Crown Motors reported a £25.7 million turnover and £242,532 profit before tax in its financial year to January 31, 2019 – figures down 29% (2018: £ £36.2m) and 75.4% (2018: £984,292) on the previous year.
In its annual financial statement, the group said that it had achieved a return on sales figure above the UK's 0.9% national average in the period – at 1.1% - but had suffered from the uncertainty surrounding diesel vehicles and the end of Honda's run of NSX hybrid supercar production.
In June last year AM exclusively reported on Honda UK's strategic plan to improve the profitability of its franchised retailers.
The manufacturer revealed that it had opted to remove its volume-driven targets as part of a strategic network restructure which could result in a reduction from 155 to as few as 100 UK dealerships "in the next two to three years".
Speaking to AM at the time, head of network development, Rebecca Stead, said: "We will be reducing the network to around about 100-to-125 with 200 retail sales, minimum, per dealer and an average return on sales of 2% by mapping the locations based on a 40-minute drive time.
"The changes will be handled respectfully and in full discussion with franchised partners in the same way as the previous reduction."
She added: "This is about doing the right thing at the right time. No one knows what the future landscape looks like and what we didn't want to do, and won't do, is a mass cull."