Ford retailer Hills Automotive has expanded its used car and commercial vehicle operations into a new location with the acquisition of the Savilles Garage car dealership at Mustow Green, Kidderminster.
Adding a third retail location to its existing Ford of Britain franchised sites in Malvern and Kidderminster, AM Awards 2020's Best in Customer Service award winner, Hills, will aim to drive greater used car volume and add a light commercial vehicles (LCV) offering to the new location, which is a former Renault and Dacia franchised site.
Savilles has been established for more than twenty years and was operated by father and son duo Jim and Patrick Sword.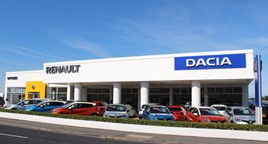 The business added Renault and Dacia franchise in 2015, with an accompanying £700,000 investment in the facility, but has recently been operating as an independent used car operation.
A statement issued by Hills today (March 16) said that the Sword family had developed a reputation for "high quality customer care" and "dedicated service" and had been keen to ensure that the prospective purchaser had the same customer orientated values.
Jim Sword said: "We are pleased to be able to wholeheartedly recommend our friends Hills Automotive to our customers who we feel strongly are the perfect choice to continue catering for all our customers automotive needs – offering as they do a comprehensive offering of car sales, servicing, maintenance and repairs from the site."
Hills joint managing director, Tim Hill, said: "We've known Jim and Patrick for a long time, and we're delighted to be taking over the reins as Hills Automotive from the site.
"Importantly for existing customers, I'm sure you'll be pleased to know that we will be taking on the entire Saville's team to work for us from the existing base in Mustow Green.
"So, for those who worked under Jim and Patrick, it will be business as usual."
The family-run feel of the Saville's dealership will be maintained under its new owners.
Will Hill, Tim Hill's son, who was appointed as a company director in December last year, will be managing the site.
Fellow Hills managing director, Richard Hill, said: "As well as all makes of used car sales from the site – including a specialist service in the provision of highly desirable top of the range vehicles – we'll be supplying commercial vehicles from the site as well as offering full servicing and MOTs.
"We'll also be able to offer the services of Hills Contracts for vehicle leasing requirements, access to our highly successful car and van rental business – Brookhire and extend our Superchips ECU remapping authorised dealership status to the new outlet."
Hills Automotive's annual financial results for the 12 month period to December 31, 2018, showed a turnover up 5.2% at £35.9 million and profit before tax up 9.9% at £493,009.
Ford of Britain is aiming to drive LCV sales as it closes almost half of its 400 UK franchised car retail sites as part of a 'Ford 2025 dealer plan'.
A total of between 160 to 180 UK dealerships will be closed under the plan, which the brand said had been formed "in a spirit of partnership" with dealers and their investors to build a "stronger and more sustainably profitable Ford sales and servicing network for the future in the UK".