Marshall Motor Holdings chief executive Daksh Gupta said that he agreed with Extinction Rebellion's "sentiment towards climate change" but not the execution of its protests after seeing his dealership vandalised by campaigners.
Gupta took to Twitter hours after a string of attacks by the controversial campaign group on a number of other businesses in Marshall's hometown of Cambridge to confirm that the AM100 retail group's Jaguar Land Rover (JLR) dealership in the city had been one of the businesses targeted in the April 30 action.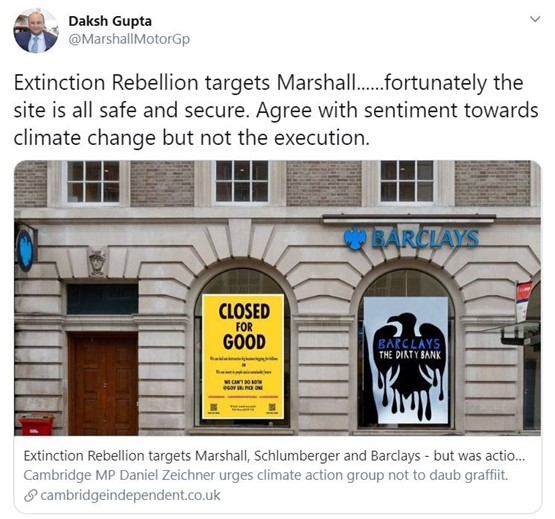 His Tweet said: "Extinction Rebellion targets Marshall......fortunately the site is all safe and secure. Agree with sentiment towards climate change but not the execution."
In its attack on the Marshall JLR site XR protestors daubed the message "no going back" and "let us breathe" messages across the glass front of the showroom in white spray paint.
Posters bearing the slogan "CLOSED FOR GOOD" were also stuck to the site's main entrance.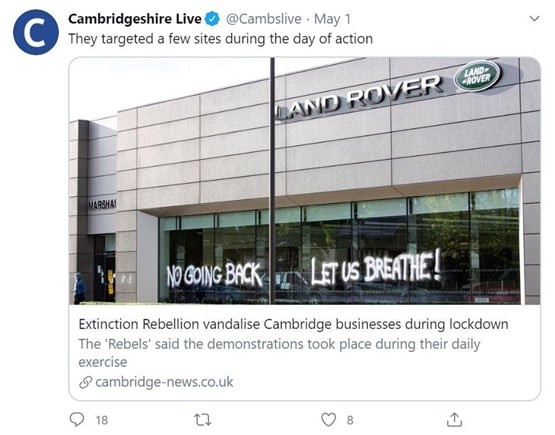 According to CambridgeshireLive, the Schlumberger Cambridge Research site – a multidisciplinary research facility housing a team of more than 100 scientists and technicians – and a Barclays bank were also among the businesses which suffered damage to property.
The legal department from the Society of Motor Manufacturers and Traders (SMMT) issued a warning to OEMs last Thursday (April 3) warning of potential disruption to retail and manufacturing facilities in action planned by Extinction Rebellion.
The alert said: "This is a national action, with a specific focus on London and Bristol. However other locations may be identified."
In Leeds Extinction Rebellion targeted high street stores in its protests. A statement issued by the group to the Yorkshire Post newspaper said: "In the midst of this crisis, all around the world the fossil fuel, motor, aviation, farming, fast fashion, plastic, chemicals and timber industries are trying to profit from the Covid-19 crisis.
"Multi-billion-pound companies such as Virgin Atlantic Airline have been lobbying the government for unprecedented amounts of money.
"We have pasted CLOSED FOR GOOD signs on the doors of these buildings to show that we want a bail out for people and planet not a bailout for business as usual."