White Dove Motor Group will kick-off its COVID-19 coronavirus lockdown car sales with Suzuki GB after unveiling its new franchised site in Cardiff.
AM reported back in December that new Mitsubishi and Suzuki dealerships were set to open in the Welsh capital after franchisee Jenkins Garages went into administration and closed its sites with the loss of 30 jobs.
Skoda and Seat retailer, White Dove Group, shared images of its new Suzuki dealership on Hadfield Road this week, however, stating: "We are thrilled to show you our fantastic new Suzuki Building. We now have cars on site and our White Dove signage is up."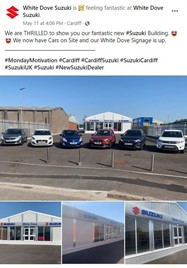 Suzuki GB network development manager, Steve Prew, was among the first people to congratulate the group on unveiling the new facility, despite the UK's current COVID-19 lockdown status preventing customer sales visits.
Prew said: "Huge congratulations to the team at White Dove Motor Group for delivering a stunning new Suzuki facility in Cardiff."
On its website, the £36.6 million turnover (FY 2018) White Dove Group claims to be a business which prides itself on delivering "excellence with a human touch".
Speaking to AM, Suzuki GB managing director, Dale Wyatt, said that the personal touch would continue to be a USP of the Japanese brand, despite the current social distancing measures in place across the UK.
He said that, even in a time when retailers are relying on home deliveries and click and collect car sales, he was "not a fan of virtual actors and chat bots" to answer customer enquiries.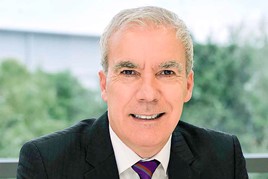 "My one aim remains to encourage people to speak to their local dealer," said Wyatt.
"I think we can use Zoom and Microsoft Teams and video and we can become much more online focussed without sacrificing that personal touch.
"We're all about looking after customers personally and I do worry about losing that edge."