Prime Minister Boris Johnson has ended the two-month COVID-19 coronavirus-enforced closure of car showrooms by giving automotive retailers the green light to open their facilities from June 1.
News of the car retail sector's impending re-start was delivered in a press conference last night (May 25) which also spelled-out plans to allow the re-opening of other retail outlets a fortnight later, on June 15.
Johnson delivered the news three days after the Society of Motor Manufacturers and Traders (SMMT) claimed that the ongoing lockdown of showrooms across the UK due to the COVID-19 coronavirus outbreak was costing Government £61 million per day in lost tax revenue and business support measures.
Back in April, after just a month of lockdown, the SMMT had said that an £8.2 billion hit already sustained by UK car manufacturing as a result of COVID-19 coronavirus factory shut-downs could get "much worse" without a rapid retail resurgence.
National Franchised Dealers Association (NFDA) director, Sue Robinson, described Government's decision to allow showrooms to re-open from June 1 as "positive".
She added: "NFDA has worked closely with SMMT to produce guidelines for retailers in line with the Government's recommendations. Retailers have been working hard to put all necessary measures in place to ensure social distancing can be observed.
"As lockdown measures start to ease, many of us will need cars to get back to work and it is crucial that automotive retailers are open to serve the workforce.
"The retail automotive sector looks forward to welcoming customers back into showrooms".
Last month the NFDA and SMMT teamed-up to create their 'Industry Guidance and Best Practice for Automotive Retail' document, which outlined car retailer's obligations following news that home delivery and click and collect car sales could be facilitated during the COVID-19 lockdown.
To download a copy, click here.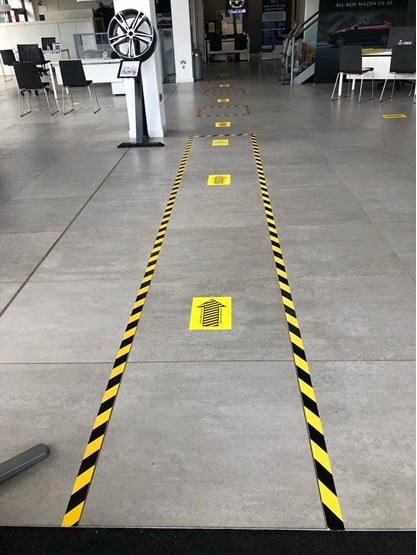 Car retailers across the UK had already started returning staff to work, re-arranged their showroom facilities and created social distancing guidelines for their sites as part of their efforts to facilitate aftersales services.
Clive Brook Volvo managing director, Clive Brook, had likened planning his business's post-lockdown re-opening to "starting a completely new business with your hands tied behind your back" in an interview with AM.
In an official statement released by Marshall Motor Holdings today (May 26), the AM100 group's chief executive, Daksh Gupta, said that his business had been working on "detailed reactivation plans for a number of weeks with the safety and security of our colleagues and customers at the heart of those plans".
Gupta said: "We are confident that, in accordance with the Prime Minister's announcement, our businesses are COVID-19 secure and we look forward to re-opening our businesses from 1 June."
He added: "I would like to take this opportunity to thank the Group's business partners, particularly its brand partners, who have been incredibly supportive during this period.
"I would also like to thank those colleagues who have worked tirelessly through the lockdown period to ensure we continued to provide both online sales and aftersales services to our valued customers.
"Finally, I look forward to welcoming both our colleagues and our customers back to our businesses over the coming weeks."
To read more about retailers' preparations for re-opening, and the the support they have recieved from OEM parners during the COVID-19 crisis, read this month's digital edition of AM.