An £8.2 billion hit already sustained by UK car manufacturing as a result of COVID-19 coronavirus factory shut-downs could get "much worse" without a rapid retail resurgence, the SMMT has warned.
UK car production declined 37.6% in March as carmakers lost a combined total of more than 140 days' output due to COVID-19 coronavirus lockdown, according to Society of Motor Manufacturers and Traders (SMMT) data published today (April 30).
Output for UK and overseas markets slumped by 36.8% and 37.8% as the estimated cost to OEMs rose to an estimated £8.2 billion as more than half (50.5%) of respondents to an SMMT survey reported that their revenues had fallen by more than a 50% with the lockdown closures implemented so far.
The SMMT reported that the latest independent analysis suggests that the crisis could result in a loss of some 257,000 units this year across all UK plants if factories stay closed to the middle of May – a rise of 57,000 on its estimate from a month ago.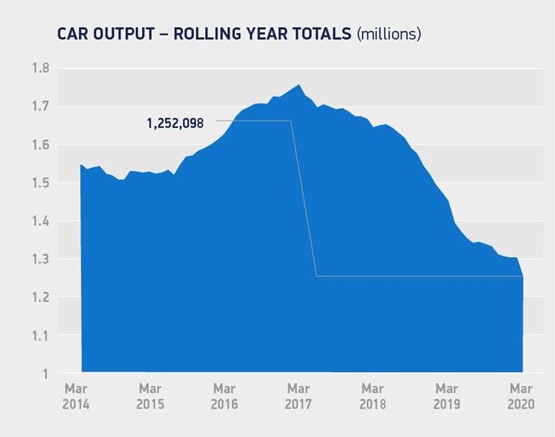 This amounts to an estimated cost to industry of some £8.2 billion, is said, equivalent to around 20% of UK carmakers' combined annual turnover.
Today's SMMT car production report added that the "outlook could be much worse" if subsequent demand is weak and the speed at which production lines are able to ramp up is constrained.
It added: "The first step, therefore, is to get car retail premises open as soon as the situation allows."
AM is urging retailers to share their experience of trading during the COVID-19 coronavirus outbreak via its two-minute, quick-fire 'COVID-19 car retail recovery survey'. Click here to take part.
The SMMT may not be encouraged by a report published by Jato Dynamics yesterday (April 29) which said that Europe's automotive sector could be set for a U-shaped recovery, with a more protracted COVID-19 recovery than that currently underway in China.
Earlier this week AM reported on an ICDP report which said that a CO2 emissions-reducing car scrappage scheme is needed in order to avoid a perfect storm of stalled sales and soaring fines from stringent new EU regulations driving carmakers 'to the edge'.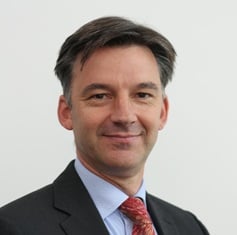 Mike Hawes, SMMT chief executive, said that it was now imperative that measures were put in place that allowed production to safely re-start but franchised retailers' part in the economic comeback was also made clear.
"UK Automotive is fundamentally strong but, as these figures show, it is being tested like never before, with each week of shutdown costing the sector and economy billions," said Hawes.
"Government's emergency measures are helping keep many companies afloat and thousands of people in jobs, but liquidity remains a major concern and will become even more stretched as the industry begins to restart."
A total of 78,767 vehicles rolled off UK car production lines during March, some 47,428 fewer than the previous year, as the coronavirus crisis caused UK car plants to close.
The SMMT said that there were "some encouraging signs" with shipments to China rising 2.3% as lockdown measures began to ease.
Overall output for the sector rounded off the first quarter of 2020 is now down 13.8%, however, with 319,252 vehicles leaving factory gates (Q1 2019: 370,289).

The SMMT said that Government schemes, including the Coronavirus Job Retention Scheme (CJRS), had so far provided a lifeline for many businesses, with almost two-thirds (60.6%) of the full-time automotive manufacturing workforce furloughed.
Although business interruption loans are now starting to pay out, however, it said that just 17% of applicants had reported success, with 58% of respondents to a survey of members stating they were either ineligible or unsuitable.
With more than a quarter (26.0%) of all companies responding reporting cash reserves of less than three months, and 29.3% projecting recovery to take between 12 and 24 months, more needs to be done to get cash flowing and to help the sector get back to business, according to the SMMT.
Hawes said: "To get production lines rolling, we need a package of measures that supports the entire industry.
"We need coordination and collaboration with government, the workforce and wider stakeholders to unlock the sector in a safe and sustainable way.
"This will include new workplace guidance, additional measures to ease cash-flow and help furloughed colleagues back to work, as well as demand-side measure to help encourage customers back into the market.
"This should be seen as long-term investment into the underlying competitiveness of an industry critical to the health of the economy and the livelihoods of thousands of households right across the UK."
UK car manufacturers, including the PSA Group's Ellesmere Port plant, are now beginning to make detailed preparations for employees to return safely to work over the coming weeks after key export markets, including China, Germany and the US, begun re-starting production lines.
Jaguar Land Rover (JLR) revealed last week that it will gradually resume vehicle production at its UK manufacturing plant in Solihull from May 18.
The SMMT said that 57% of all businesses that responded to its survey said that they planned to resume operations by mid-May.
However, two thirds (66.7%) highlighted UK market readiness as a pre-requisite, while almost half (48.9%) called for more flexibility in the CJRS to allow for short-term working during production ramp-up and 56.0% flagged liquidity.