Luscombe Motors has finally opened the doors to its new MG Motors UK dealership in Leeds following a two-month delay caused by the COVID-19 lockdown.
As the AM Awards-winning, Hunslet-based operation re-opened its Suzuki and Mitsubishi showrooms to customers following the June 1 easing of lockdown restrictions, managing director Robin Luscombe was finally able to welcome customers for the newly-introduced brand offering.
"We've had planned to open back in April and we've had the cars in stock and everything ready to go," Luscombe told AM. "It's great to be able to open the doors at last.
"At first it'll be something of a soft-launch – we don't want to spend lots of money on marketing at a time when demand is still quite low – but we have our radio spots recorded and ready to go for next month."
Luscombe's new MG dealership has been incorporated into its existing Mitsubishi franchise.
Shanghai Automotive-owned MG had set a target of operating from a 120-site franchised retail network by mid-2020 prio to the COVID-19 pandemic.
MG had also hoped more than double its UK volumes to 30,000 registrations in 2020 – on the back of 44.5% growth to 13,075 in 2019 – with the help of increased electric vehicle (EV) sales.
In February Chapelhouse Motor Group added a brace of Merseyside MG locations, on Canal Street, St Helens, and Liverpool Road, Southport, to keep the brands growth ambitions alive and Luscombe's new addition in Leeds will come as a further boost.
Luscombe's return to work
All three of Luscombe group showrooms re-opened their doors to customers this week as the business continued to reintroduce furloughed staff back to work.
Luscombe said that he planned to reintroduce a member of sales staff each week and taking the opportunity to deliver WhatsApp and video call training to each before they become operational once again.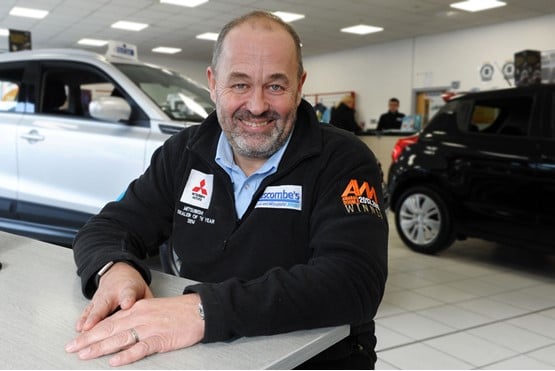 He said: "WhatsApp has been huge for us and video calls are also a vital part of the business. I don't like live chat. It put your customers in touch with a call centre and I think that's just too impersonal.
"We've adapted the way we work now and I want staff at ease with the new way of doing things and capable of assessing a part exchange over video.
"During lockdown most of our customers have become more used to video communications, so why shouldn't we embrace that?"
Luscombe said that aftersales business had been "mega" and parts sales "strong" since he re-opened his aftersales facility on Monday, May 4, implementing a range of measures such as using infrared thermometers to check temperatures of staff, extra protective covers inside cars, disinfecting interiors and keys, and installing 'sneeze' screens.
During May he said that the business had also been able to sell around 40% of its normal volume of vehicles with just two members of sales staff, as opposed to the usual nine.
He told AM that he expected a profit from May and enough trade to make-up his April losses during June and July.
The business has been operating its workshop at 95% efficiency with just one technician and two "non productives" for much of the lockdown period and has also saved money on business rates, he said.
Now Luscombe is poised to install a new ramp to ensure that his full compliment of technicians is able to recommence work in-line with social distancing measures.
He said: "That's a priority and something we have in hand. At the moment the demand is there in aftersales but I just can't physically fit all my technicians back in to the workshop."