Lipscomb Cars is poised to officially open the doors of its new £5m Volvo Car UK Canterbury dealership facility after a three-month COVID-19-enforced delay to the development.
The Maidstone-based car retail group plans to open its new dealership on the A28 at Chartham, Canterbury, this month after the pandemic's lockdown restrictions caused delays to the installation of the facility's permanent mains power connection.
With Volvo now offering an electrified option across its entire range, and with the XC40 Recharge – the Swedish brand's first fully electric vehicle (EV) – now on the way, the issue thwarted a planned March opening.
The gradual lifting of lockdown restrictions has seen work resume, however, and the family-owned retail group now hopes to have the new site fully operational by the end of June, bringing a 12-month development to fruition and getting plans for a business restructure underway.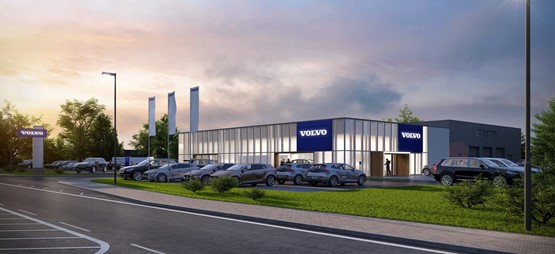 Lipscomb managing director, Peter Barnes, said: "The development has not been without its challenges, we had to jump through countless hoops with the City Council and Kent Highways to gain planning permission in the first place. Then with those issues solved the power connection and COVID-19 coming along made me wonder if it would ever happen, but there is 'light at the end of the tunnel' as they say."
Lispcomb's completion of its Canterbury Volvo franchised site comes four years after it created a new Volvo Maidstone facility under the Swedish premium carmaker's Volvo Retail Experience (VRE) corporate identity.
Lipscomb Cars announced at the end of last year they were seeking planning permission for the development of its Ashford Fiat and Abarth franchised dealership into 64 flats and a decision is set to be made this month by Ashford Borough Council.
Barnes said that the group had resolved that it was not viable to redevelop for a modern car dealership at the location and, instead, intends to relocate its workforce to its current site at Chartham.
Further plans to develop the Chartham site have yet to be revealed, but Lipscomb's plans to consolidate are expected to see staff grow across both it and its Maidstone facility to between 50 and 60.
Lipscomb's 2.5-acre facility just off J6 of the M20 at Aylesford, Maidstone, also operate Volvo, Alfa Romeo, Jeep, Fiat and Abarth franchises, including a central trade parts operation for Kent together with accident management and repairs.
"We hope to announce our plans at Chartham very shortly, there are just some loose ends to tidy up and then we will be set for the next stage of our growth plans through to 2022, I see the coming months as an opportunity for the Lipscomb team to shine," said Barnes.
"Despite the challenges we have all faced over the past months I am very positive for the future of our industry.
"We will need to change our processes and focus for sure but as a family business I like to think we have the edge by daily contact with the staff and we can make things happen quickly."
Lipscomb Cars reported a turnover of £59.3 million in 2019 but expect this to fall to £49.2m in 2020 as a result of COVID-19 and the impact on car supply in particular.
However, 2021 is forecast to increase to £63.7m as the market moves back to more normality.
Barnes said: "Until this pandemic hit us in late March we were running ahead of our plan.
"We have used this period to consolidate plans and are being very realistic in our approach to the future and our business forecast.
"I fully expect us to surpass this reforecast given the increase in enquiries and business we have seen this month."