The Pentagon Motor Group has severed its ties with the FCA Group with the closure of its dual-brand Alfa Romeo and Jeep dealership in Doncaster.
The group said in a statement issued to AM today (June 19) that the Wheatley Hall Road site - opened by the group back in October, 2015 - had become "unviable" following recent forecasts for new car sales in the UK, combined with the challenges posed by the COVID-19 coronavirus crisis.
The Derbyshire-based AM100 car retail group said that it would do all it could to assist the 17 staff members who find themselves "caught-up in this closure".
David Lewis, managing director of Pentagon Motor Group said: "We regret closing our Alfa Romeo and Jeep business in Doncaster, but, faced with the recent challenge of the Coronavirus lockdown and the future market forecast for new cars, the site is no longer viable.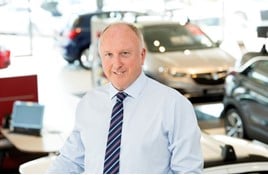 "The two franchises operated in Doncaster were the sole representatives of those brands in our Group, which inevitably added to an imbalance of costs required to keep them in place and very tough decisions are having to be made."
Lewis added: "I'd like to thank all of the dealership staff at Doncaster for their hard work and commitment to customer service, and the company will do all that it can to help the staff caught up in this closure."
Pentagon Motor Group, which was established in March 1991 with just one Vauxhall dealership in Derby, now operates 49 franchise outlets for major brands, from 26 sites across the East Midlands and North.
Following its acquisition by Motus Group (UK) Ltd in August, 2017 – a group that now employs some 3,000 people across its business in South Africa and the UK, operating 115 franchise outlets across 69 sites – the group has been busy restructuring its operations.
In March 2018 it begun to wind-down its FCA Group relationship with the closure of its Fiat and Peugeot joint franchise dealership in Keighley.
In August 2018 Pentagon served a termination notice to Fiat and Nissan for its dual-brand dealership in Huddersfield.
Last year was a year of growth for the group, however, as it acquired three TrustFord dealerships (Warrington, St Helens and Runcorn) in January, before acquiring Loughborough's Archie Moss Vauxhall dealership in August.
November last year brought the acquisition of Sytner's Seat dealership in Huddersfield, before the group completed the addition of Peugeot to its Barnsley (in its former Fiat showroom) and Lincoln (formerly Citroen) sites in February this year.