Vertu Motors has taken the decision to cut 345 jobs as it looks to future proof its operations through increased automation in the wake of the COVID-19 lockdown.
In a trading update issued via the London Stock Exchange this morning (July 14), the AM100 car retail group's chief executive, Robert Forrester, said that his business had delivered a stronger than expected June performance.
Vertu delivered an adjusted profit before tax of £9 million in June – ahead of the prior year and above the Group's original business plan of £8.6m – having incurred an adjusted loss before tax of £14.2m in the March to May period.
In June the Group benefitted from £3.3m of furlough funding from the Government Coronavirus Job Retention Scheme (CJRS) and £0.9m rates relief, which will continue until March 2021.
But Forrester revealed that a 6% cut to Vertu's headcount, through a process which should be completed by the end of this month, would save the business £10m in ongoing annual costs.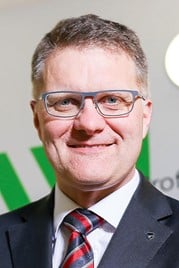 He said: "June trading was stronger than we had expected. I would like to thank the team for their hard work and enthusiasm as well as for their efforts to ensure the dealership environments remain safe for customers and colleagues.
"The Group's cash position was much stronger than we could have hoped, despite the fact the Board has made the decision to ensure all suppliers are paid in full, on time, illustrating the discipline within the business.
"The COVID crisis has driven an acceleration of technology uptake and we are embracing this trend to futureproof the business.
"As automation progresses, we have made the difficult decision to reduce Group headcount by 6%, which contributes to £10m of on-going annualised cost savings being identified."
Vertu said that its June profitability had been delivered despite not earning significant quarterly manufacturer volume bonuses due to the lockdown period, which impacted its retail sites in Scotland until June 29.
This impact was partially offset by the continued positive impact of Government support packages, however.
The group said that a "very high proportion" of its aftersales departments had remained open throughout the lockdown and saw increasing momentum, with "a very strong, high-margin aftersales performance" in June benefitting from pent-up demand and aided two additional working days year-on-year.
It also reported strong retail sales demand in both new and used car and van segments in June, with like-for-like sales up 0.9% year-on-year.
Fleet volumes were down by 53.2%, commercial vehicle 6% and used car sales by 5.9%, however.
Vertu said in its trading update that the Fleet market was particularly impacted by lack of activity in the significant Motability segment (which has reversed in July) and reduced demand in the daily rental segment.
Reduced staffing, increased automation
As of June 1, 37% of Vertu's workforce were actively at work, with this figure rising to 75% by 30 June as colleagues returned from furlough leave.
But the group's in-house software development team worked throughout the lockdown, driving technological developments which have now been rolled out across the Group, to "significantly improving efficiency of processes", Vertu said.
Among the new innovations were: improved buy on-line and 'reserve it now' functionality; the introduction of a fully 'paperless' vehicle sales process, including the ability for customers to 'sign' via SMS messaging; and improved efficiency of administration processes through enhanced system integration.
These developments have directly affected the group's staffing demands, with around 345 employees set to leave the business by the end of July.
Vertu said that it a strong balance sheet during the COVID-19 crisis, with low levels of debt, significant assets and liquidity at the start of the lockdown and took measures to bolster its finances as the crisis ufolded.
"As part of the focus on cash generation, a targeted reduction in used vehicle stock of £20.9m was delivered in June bolstering cash balances," it said.
"Given the current buoyant used car market conditions, no further reductions in stock levels are planned in the short term."
The business's net cash (including used vehicle stocking loans) at June 30 was £9.7m which represents an improvement of £49.2m from the previously reported position at May 22.
The group also said that it was up to date with regards payments of external rent and amounts due to HMRC for employment taxes.