Durham's Pulman car retail group has become the latest VW retailer to roll-out Volkswagen Financial Services' new Rent-A-Car daily rental offering to customers.
The group – also a Cupra, Seat and Skoda franchisee – offers both short-term and long-term car rental options through the recently-piloted offering, which is open to retail and business customers.
Customers can take advantage of daily, weekend and short-term rentals up to 28 days, with flexible rental options available for the longer-term.
In an interview featured in the latest digital edition of AM Magazine, Volkswagen UK brand director Andrew Savvas said that the scheme was part of the brand's shift towards offering a variety of mobility options.
VWFS recently entered a partnership with car subscription service provider Drover to pilot vehicle subscription services to UK customers starting, from £514 a month.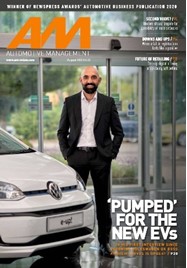 He said: "Customers are starting to demand change in the way they lease and buy a car."
Commenting on Pulman's adoption of the new service VWFS mobility director, Mark Forton, said: "We are delighted Pulman Volkswagen has joined the VWFS Rent-a-Car team, we look forward to working with them and growing their rental service in the North East."
VWFS Rent-a-Car at Pulman will deliver a range of vehicles to interested customers, including the Volkswagen Tiguan R-Line, T-Cross SE, Golf Match Edition and Passat SEL.
Over the next six months the availability of different models and trims will significantly increase, it said.
The brand-new service available at Pulman has also brought opportunities for new members to join the Pulman Family and for brand new job roles to be created.
Rental manager Shahkiel Akbur joined the Pulman team this month and has brought with him a wealth of knowledge from working in the rental and credit hire industry for five years.
Akbur said: "I'm thoroughly enjoying working for Pulman which is family-run with a great family ethos from all of the team members I've met so far.
"I'm excited to grow the Rent-a-Car brand at Pulman and in time, welcome this service to all of the sites and brands we represent."
"I'm really looking forward to helping customers with their rental requirements whether that be for a short weekend break, or over a longer term to help with local business needs."