Mervyn Stewart has launched a new Select Used Cars business after new funding allowed it to invest £2m in the acquisition and redevelopment of its former Infiniti dealership in Belfast.
The car retailer, Northern Ireland's largest Skoda franchisee, was able to expand into the Boucher Crescent site with its new venture after securing funding from Danske Bank.
AM reported in July last year that landowner Kilmona Holdings had put the site of Mervyn Stewart's former Infiniti retail site up for sale following the Nissan-owned brand's withdrawal from the UK market and was asking for £1.3 million for the 1.1-acre mixed development, known as the Meadows Centre.
The group had already purchased an adjacent property and, during lockdown, completed a transformation of the newly-acquired dealership site to create its first stand-alone Mervyn Stewart Select used car facility.
The development is expected to lead to the creation of 10 new jobs over the coming months.
Mervyn Stewart managing director, Stephen Stewart, said: "This year every retail sector has faced increased challenges with the uncertainty of the COVID-19 pandemic but we feel confident that we have launched our Mervyn Stewart Select brand at the right time.
"There has already been a significant bounce back in sales, with strong demand driving a strong performance through June and July.
"Our Select brand will allow us to respond quickly to the changes in the market."
Mervyn Stewart has Skoda UK franchises in both Belfast and North Down and was named as Skoda UK Retailer of the Year for 2018.
In its most recently-published accounts, for the period to December 31, 2018, the group recorded a turnover up 11.5% year-on-year at £28.5m and pre-tax profits up 13% at £460,786.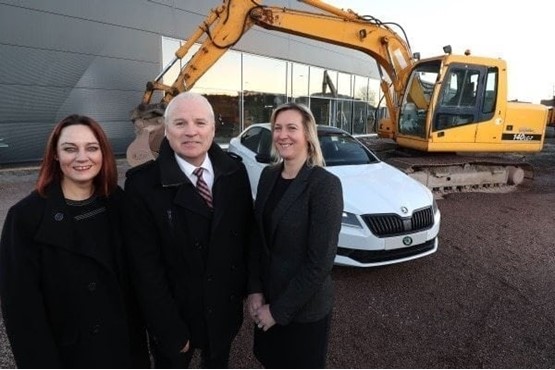 The group's latest move, and the creation of its Select Used Cars division, comes four years after it secured funding from Danske Bank to create its 12,000sq-ft Bangor Skoda dealership facility - a project which created 20 jobs.
Ellen Matthews, business banking manager at Danske Bank, said: "This is a company which has been a key player in the Northern Ireland car market for a long time, and they have managed well through the coronavirus lock down by quickly moving to a virtual platform for car sales.
"Mervyn Stewart has proven time again that they are resilient, creative and innovative in how they respond to customer trends."