Marshall Motor Holdings has opened a new dealership featuring Seat and its performance sister brand Cupra in a former Vauxhall franchised site in Oxford.
The Cambridge-based A100 PLC has created 12 new jobs with the opening of the new facility, which is located between its Jaguar Land Rover (JLR) and Volkswagen retailers on Milton Gate.
Marshall now has four Seat franchised car dealerships – including Braintree, Cambridge and Leicester – in its position as the Volkswagen Group's largest UK franchise partner.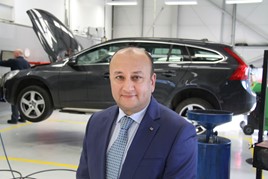 Marshall chief executive, Daksh Gupta, whose interview with AM Live Virtual is now among assets from the event made freely available this week, said: "The opening of Seat and Cupra in Oxford is a perfect strategic fit for us in terms of the location in what was an open point for the brand."
The opening of Marshall Seat and Cupra Oxford increases the company's presence across the Oxfordshire, which includes Audi, Volkswagen, Volkswagen Vans, Skoda, and JLR.
Gupta added: "We are delighted to enhance our Seat portfolio, increase our representation to existing and prospective Seat owners across the Oxfordshire area and strengthen our fantastic relationship with the Volkswagen Group – which Marshall are the UK's largest partner."
Marshall said that the new Seat and Cupra dealership would soon undergo further refurbishment to bring its showroom and customer hospitality areas up to the latest Seat and Cupra corporate identity (CI) standards.
A spokesman for performance brand Cupra recently told AM that the brand had reached a "tipping point" in the UK with the impending opening of retail stores at Westfield White City and Lakeside Bromley becoming part of the performance car brand's 58-strong dealership network.
He told AM that momentum was starting to grow for the sister brand of more mainstream Seat ahead of the arrival in dealerships of the new Cupra Formentor SUV, adding: "It's an extremely exciting time for the brand and its retailers."