Jardine Motors Group will sell the £2m, 1,900PS Automobili Pininfarina Battista EV hypercar from a new London dealership after the Italian car maker ended its retailer agreement with HR Owen.
A spokesperson for Pininfarina confirmed to AM that its contract with AM100 luxury car retailer HR Owen had ended last year, before sales of its limited-run hypercar had started, and that Jardine had now stepped in to become its London and southern UK retailer.
The brand will have two retailers in the UK, with Rybrook having been unveiled as a franchisee back in 2019.
HR Owen, meanwhile, revealed a franchise agreement with rival EV hypercar manufacturer Rimac seven months after initially signing with Pininfarina.
The Pininfarina spokesman told AM: "Automobili Pininfarina ended its retailer agreement with HR Owen last year and we then set about finding a new partner for the important southern UK area.
"The ambition and vision of Jardine Motors is clear, and we are very happy to be working with them now through the creation of Automobili Pininfarina London."
Jardine already counts Aston Martin, Ferrari and McLaren Automotive among its supercar franchises.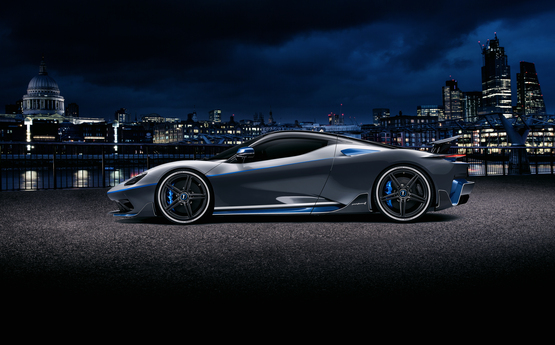 Pininfarina's Battista EV is set to reach UK customers later this year and customers will get the chance to see the Battista in-person when the car visits the UK as part of a global tour later this month.
Jardine Motors Group chief executive, Neil Williamson, said: "Jardine Motors Group is very proud to have secured the London and southern retail rights for the Automobili Pininfarina Battista pure-electric hyper GT.
"The Pininfarina name is legendary in the world of motoring and we are excited to partner with the company to bring Battista to our enthusiastic clients in Britain.
"We are privileged to have the incredible, limited- edition Battista Anniversario with us in April and we anticipate significant demand as clients seek to get up close and personal with a unique and sustainable motoring innovation from a prestigious luxury car maker."
Automobili Pininfarina chief executive, Per Svantesson, said: "I am delighted that we have strengthened the presence of Automobili Pininfarina in the UK through this partnership with Jardine Motors Group.
"Through the launch of Automobili Pininfarina London, future owners of Battista are guaranteed world- class customer service and access to the entire Automobili Pininfarina family.
"I look forward to personally meeting every owner and introducing them to our world of sustainable automotive luxury."
A maximum of 150 of the limited-edition hypercars are set to be built, with around 50 destined for customers in Europe.
Powered by a 120kWh battery and electric motors for each individual wheel, the Battista claims to have the ability to accelerate to 62mph in less than two seconds and a WLTP-tested zero-emissions range of 310 miles.
As part of a bespoke experience for all Pininfarina customers, every owner will be invited to meet the Automobili Pininfarina team responsible for designing, engineering and developing the car during this visit to the birthplace of Battista 'Pinin' Farina.
Pininfarina said that said that its chief design officer, Luca Borgogno, will be on hand during the visits to showcase a range of optional colours, materials and finishes available.