Perrys Motor Sales has opened a new Mazda UK Studio in Dover, claiming to offer the Japanese brand's premium car dealership experience from "a more intimate and convenient setting".
The new facility, on the White Cliffs Business Park, Whitfield, Dover, is the second Mazda Studio to open in the UK, following the AM100 car retail group's opening of another similar facility in Colne, Lancashire.
It will also support sales from Perrys' Mazda UK dealership in Canterbury - opened in 2019 - which was the AM Awards' Best New Dealership category winner in 2020.
Laura Brailey, head of retail operations at Mazda UK, said: "I'm delighted we are able to launch our second Mazda Studio.
"A Mazda Studio is a potential future retail format we are piloting in order to provide a more convenient solution for our existing and future customers, which is already proving successful with our first-ever Colne Studio launched in Lancashire.
"The East Kent region is large, so to support our Canterbury dealership, we have identified Dover as a great location to ensure a Mazda retailer is located within easy reach for customers.
"Perrys Motor Sales is one of our biggest dealer partners and share a forward thinking and customer centric attitude, making them the ideal partner."
Perrys' executive director, Denise Millard, said: "We have enjoyed a long-standing and successful relationship with Mazda, and after launching the first-ever Studio in Colne, we're excited to unveil the second Studio in Dover.
"Our continued investment in East Kent really underlines our long-term commitment to customers living in the area and we look forward to safely welcoming new customers to the Studio."
The Mazda Studio concept follows on from the Mazda MyWay home test drive concept pioneered by the Japanese car maker in order to broaden the potential influence of its retail network, particularly in urban areas where the cost of developing additional retail locations is expensive.
Perrys Mazda Dover Studio has committed to the recently introduced Mazda Your Way programme as part of its new opening.
The MyWay service offers remote consultations and product demonstrations, flexible test drives from home, contactless reservations, and flexible vehicle deliveries.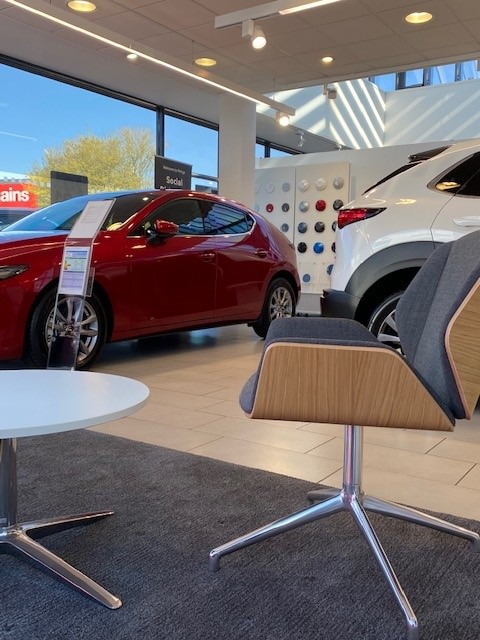 AM recently spoke to Mazda UK managing director, Jeremy Thomson at the launch of the brand's debut elelctric vehicle (EV), the MX-30.
Thomson told AM that Mazda plans to "capture back" 50% of March sales lost to COVID-19 'Lockdown 3' showroom closures in April, May and June.
Thomson said that all comparisons to previous years' new car markets would be "meaningless" in 2021.
He added: "One of the bonuses, I suppose, is that when (dealers) look back in a years' time they will think 'we had significant stock levels in April and May'.
"This time around any stock levels we had built up for March give us a great opportunity for a rapid recovery. It's pretty much a reverse polarity of where we found ourselves last year."
Thomson added: "Having a new car launched into a new segment also creates consumer interest and gives us potential for conquest which is really opportune in its timing."