Mazda UK managing director Jeremy Thomson has told AM that the brand plans to "capture back" 50% of March sales lost to COVID-19 'Lockdown 3' showroom closures in April, May and June.
Thomson, who had previously told AM that he hoped to see a "long tail of recovery" after England's car dealerships re-open their doors to customers on April 12 said that the Japanese brand and its retailers have reasons to be upbeat.
He said that pent-up demand, the new UK/Japan trade deal and the launch of an important new model in the form of Mazda's first electric vehicle (EV) – the MX-30 – this month, should all help boost its fortunes.
Year to date to the end of February, Mazda's sales were 58.2% down at 1,244 (2020: 2973), according to data published by the Society of Motor Manufacturers and Traders (SMMT), in a market down 38.1%.
Speaking at this week's launch of the MX-30, Thomson said: "We want to capture back 50% of the lost March opportunity in April, May and June.
"We're placing a lot of emphasis on acting now to focus on those months because the opportunity will be far bigger than when we thought March would be available to sell in."
Thomson said that all comparisons to previous years' new car markets would be "meaningless" in 2021.
He added: "One of the bonuses, I suppose, is that when (dealers) look back in a years' time they will think 'we had significant stock levels in April and May'.
"This time around any stock levels we had built up for March give us a great opportunity for a rapid recovery. It's pretty much a reverse polarity of where we found ourselves last year."
Thomson added: "Having a new car launched into a new segment also creates consumer interest and gives us potential for conquest which is really opportune in its timing."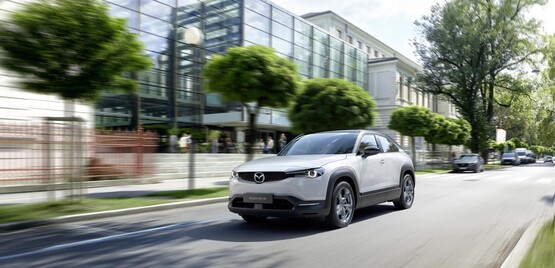 Mazda UK expects upwards of 50% of customers for its MX-30 EV to be conquest and sales to be heavily weighted towards retail.
Prices for the new model – which is capable of a 124-mile zero emissions range – start at £28,545 for the SE Lux and there are three specifications available, including Sport Lux (£30,545) and Sport Tech (£32,845).
All MX-30 sales include the provision and installation of a NewMotion home charger.
The long-standing Mazda UK MD said that and improved Yen/pound exchange rate and the new free trade agreement with Japan would be key to a "levelling-up" of the market for Mazda UK.
"Tariff levels have been a critical factor that's created a glass ceiling for Mazda in the UK over the decades", he told AM.
"It's meant a 10% tariff on cars as well as a tariff on parts and that equates to tens of millions of pounds a year. We now don't have the financial penalties, so its' life in a level playing field.
"For 20 years at Mazda UK it's been a factor in how we structure the business and that's why we have a very retail balance to the mix."
Thomson said that Mazda was not about to launch an assault on the fleet market, but said there were more profitable avenues of the sector which he would like to pursue, adding: "We'll carefully balance what's right".
Mazda revealed at its MX-30 launch that it has plans for new plug-in hybrid (PHEV) and range extender electrified vehicles in its line-up, but Thomson would give no timeline on potential launches to AM.
Asked how the brand would manage its responsibilities with the EU's CAFE regulations, and resulting fines, Thomson said: "We expect to be penalty free in the next few years."
The brand concedes, however, that the limited range of its MX-30 SUV means that it's "not a car for everyone" as it continues to develop ever-cleaner internal combustion engines (ICE) as part of its fuel strategy.
Thomson said: "EVs are only part of the solution."