Arnold Clark will help its apprentices learn to drive and give candidates the ability to boost their wages through performance as part of a 'ground-breaking' new benefits package.
The AM100 car retail group already pays its apprentices significantly above the national minimum wage and ultimately appoints 91% to a full-time position in the Group, but has further incentivised success with a series of changes to its apprenticeship package.
Arnold Clark will take timekeeping, mentor assessment and departmental feedback into account to increase wages based on performance.
It will also offer a fully-funded intensive driving courses – facilitated at its GTG training centres in Glasgow, Edinburgh and Wolverhampton – in its recruits' second year of training, along with two attempts at their theory and practical driving tests.
Arnold Clark aftersales director, Scott Grant, said: "We're proud to be leading the way with this new programme, recognising our apprentices for the work they put in and the commitment they show.
"An apprenticeship is a huge step for a young person, and we have a duty of care to set them up with skills they can use throughout their entire working lives.
"Now we're giving them more control, putting them in the driving seat when it comes to their earnings."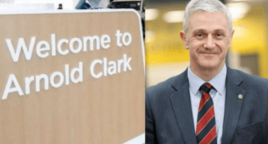 In June last year Arnold Clark chief executive Eddie Hawthorne told AM that the group's apprentices will see their training "set back by a year" as a result of the COVID-19 crisis.
Hawthorne said that it was impossible to maintain social distancing and continue training as normal for over 900 apprentices it employed as the group implemented remote learning to keep its training on-track.
"We've had no choice but to refer our first- and second-year apprentices back to the GTC training centres for a couple of months," he said.
At the last intake in 2019, more than 400 apprentices joined Arnold Clark in a range of roles including technicians, spray painters, body repairers and parts advisors with further opportunities available in IT, customer service and business admin.
While this year's intake will be smaller, the group has said that its focus will be on recruiting highly motivated individuals and helping existing apprentices achieve their potential following a disrupted year of training.
Grant said: "Apprentices remain the lifeblood of Arnold Clark and we believe they deserve more opportunities to prove themselves and be recognised.
"An apprenticeship is far more than just a job, or even just an education. We believe in providing them with as many opportunities as they're willing to take and in giving them real-life skills that will set them up for the working world.
"While Arnold Clark already has an outstanding track record for apprenticeships, these added incentives will make our apprenticeship programme the most attractive in the industry."