Holdcroft Group has opened the doors to a new MG Motor UK franchise in Cheshire Oaks after adding the brand into its existing Honda showroom.
The Stoke-on-Trent based car retail group has divided up the facility on Oakland Drive, Ellesmere Port – just yards from its neighbouring Hyundai dealership – into two areas to accommodate the two brands.
It is metres away from the Cheshire Oaks Retail Park and conveniently located close to the M53, MG said.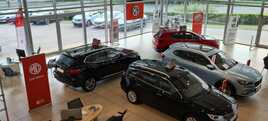 Cheshire Oaks MG is Holdcroft's third MG franchise, sitting alongside businesses in Stoke and Warrington, and is one of over 30 new franchised sites established by the UK's fastest-growing car brand so far in 2021.
Kevin Williams, franchise director for Holdcroft MG, said: "We're incredibly excited to welcome the MG brand to our group.
"The iconic brand is famous for its sporty, exciting and value-for-money cars, and more recently for taking the lead on making electric cars affordable to more people than ever before.
"With a fantastic 7-year warranty providing reassurance on MG's great range of cars, we're excited for this new addition to our family-run business, which has been providing great cars, brilliant service and friendly aftersales around the Midlands and North West for over six decades."
MG Motor commercial director, Guy Pigounakis, said: "Holdcroft is one of the best-known and respected dealer groups in this part of the country and we're delighted to welcome them and support the opening of the new showroom, which is a perfect fit for both MG and Holdcroft.
"The Cheshire Oaks site is in the perfect location to attract buyers from all over the North-West, where electric car sales in particular are booming."
Last week AM reported that Dicksons of Inverness had extended MG Motor UK's reach into the Highlands with the opening of a new dealership in its home city.
MG is the UK's fast-growing new car brand, having generated a 65.6% rise in registrations (to 17,499) to the end of August.
Earlier this month AM reported that the brand had achieved a new sales record of 20,000 units year to date – half-way through September – beating its full-year 2020 volumes by more than 1,500 units.
MG was shortlisted in the Manufacturer of the Year category at this year's AM Awards and currently offers six models in the UK including three plug-in cars.
Its MG ZS EV, new MG5 EV and MG HS plug-in hybrid (PHEV) are all backed up by MG's seven-year warranty.