Cambria Automobiles' return into private ownership has been officially approved at the car retail group's annual general meeting.
A statement issued following the AGM yesterday (October 11) revealed that all resolutions were passed in the motion to return the business to private ownership after 11 years spent as a PLC trading shares on the London Stock Exchange.
As previously reported by AM, the AM100 group now intends to cancel its listing and trading on AIM, a sub-market of the London Stock Exchange, after 7am on October 13.
Yesterday's statement said: "At Cambria's General Meeting held earlier today at which approval was sought from Cambria's shareholders for the re-registration of Cambria as a private company limited by shares following the offer by Cambria Bidco Limited, all resolutions were passed.
"Accordingly, following cancellation of admission to trading of Cambria's ordinary shares on AIM, which is to take effect at 7:00 a.m. on 13 October 2021, Cambria shall make an application to the Registrar of Companies to re-register Cambria as a private company limited by shares and adopt the new articles of association that were approved at the General Meeting."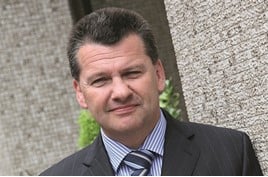 In an interview before Cambria chief executive Mark Lavery secured the shareholding required to guranatee the group's re-privatisation, he said that funding his £82.5m takeover had "not been easy".
Lavery told AM that the cash had been generated from a combination of bank debt and £2.5m of personal funds.
Explaining part of his reasoning for the move, he said: "Over the past 11 years we have employed stockbrokers and market analysts and dedicated millions of pounds and hundreds of man hours to let the market know about the business we built.
"Cambria doesn't set the share price, the shareholders do, and the truth is that they just haven't got it. The value that we see in the business has not been realised.
"I feel like I'm wasting my time and a lot of money."