Mercedes-Benz franchisee LSH Auto ensured fun remained part of the mix for its annual 'Best of the Best' employee awards by including a cocktail-making masterclass.
The activity – completed with the option of non-alcoholic drinks – was dreamt up after COVID-19 Omicron variant forced new restrictions which prevented the traditional gala dinner event earlier this year.
A total of 80 employees from across the AM100 car retail group's operation were awarded in five-nights of virtual awards presentations which included the cocktail class as the business attempted to inject some fun in the absence of a physical get together.
Ian Williams, LSH Auto's head of human resources, said: "It's really important for us to acknowledge and celebrate the achievements of our colleagues.
"When the Plan B restrictions were announced in December, we decided to find an alternative to a typical awards evening. We worked with Virtual Connoisseur to hold a series of digital cocktail making masterclasses and delivered cocktail gift boxes to all our award winners in advance, along with Just Eat vouchers.
"It was a huge success. More than 80 colleagues were recognised for their achievements across five evenings in January and the feedback has been fantastic."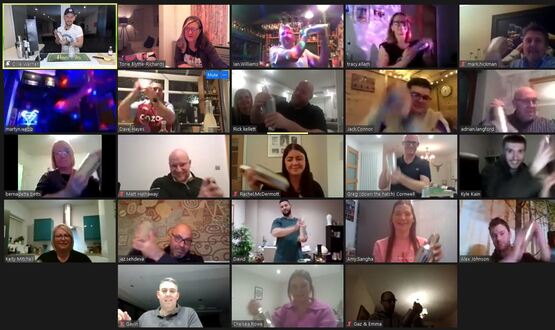 Awards were handed to 15 winners from Mercedes-Benz of Stockport, nominated by their managers from the front of house, sales, aftersales, technicians, parts, body shop and central services teams.
Award winner Chelsea Rowe, the site's corporate sales coordinator, said: "Winning a Best of the Best award was a total surprise and very much appreciated. We all had a great night, and the cocktail hosts were brilliant. It was a fantastic and extremely fun way to celebrate the success of our teams across the business."
Mercedes-Benz of Birmingham marked the achievements of 20 winners from a diverse range of departments, meanwhile, as LSH Auto's Finance Team had 13 winners who came together with seven winners from the Customer Experience Centre for their virtual celebration.
Mercedes-Benz of Whitefield and Mercedes-Benz of Macclesfield celebrated the achievements of 14 winners from hosts, sales and aftersales executives to technicians, paint sprayers and service advisors.
The final 'Best of the Best' awards celebration brought together 14 winners from Mercedes-Benz of Solihull and Mercedes-Benz of Tamworth, ranging from apprentice technicians and parts supervisors to warranty and aftersales administrators, sales executives and hosts.
Martyn Webb, Managing Director LSH Auto, said: "As a company we know that our success relies on our colleagues.
"The 'Best of the Best' awards are a fantastic way to celebrate their dedication and commitment over the past 12 months and to look forward together to an exciting year ahead."