Chorley Group has tripled the scale of its MG Motor UK representation in its home town with the opening of a new standalone showroom for the brand.
The AM100's 94th-placed car retail group by turnover is aiming to build on the "exponential growth" of the budget brand – now focusing heavily on affordable electric vehicles (EV) – at the new site after enjoying strong results in 2021.
Chorley delivered over 650 new cars for MG in 2021 as the brand grew its UK retail network with the addition of 40 new dealers and grew registrations by 66.2% (to 30,600) after adding the flagship HS SUV and MG5 SW electric estate car to its line-up.
Commenting on the new dealership opening, Chorley group managing director, Adam Turner, said: "We are really proud to continue our investment in the local community and the MG brand. The exponential growth of the MG brand in the UK has been incredible and enabled us to make this statement investment in the flagship store.
"Our growth plans are matched by MG's bold ambitions, and we look forward to continuing to grow with them."
MG Motor UK commercial director, Guy Pigounakis, said: "We are delighted to witness the opening of the new Chorley MG site and, of course, the substantial investment this represents from Chorley Group's shareholders.
"They are one of our consistently best-performing dealerships with a clear commitment to the brand and strong family-run values that offer the absolute best to MG customers and our ongoing partnership."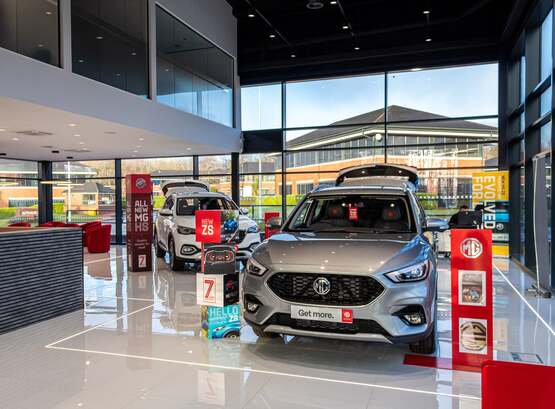 Chorley's new, seven-car showroom is situated just 200 metres from the group's old MG dealership on Foxhole Road, Chorley.
In a recent AM webinar, Chorley Group aftersales director Pauline Turner said that the facility would play a part in boosting the group's aftersales capacity thanks to its seven MOT bays.
The Chorley site is one of a number of recent additions to the MG network.
Vertu Motors' Macklin Motors Scottish car retail division has recently brought together MG, Kia and Peugeot sales and servicing at a newly-developed £5m Edinburgh showroom.
Last month AM reported that RRG Group was looking forward to offering MG Motor UK's range of "affordable EV and Plug-in Hybrid" vehicles after joining the brand's franchised network with a showroom opening in Stockport.
The move came weeks after EMG Motor Group added its first MG Motor UK car franchise with the opening of a new dealership at its former Mitsubishi showroom in Ipswich.