Park's Motor Group have opened the doors to a new Nisan dealership in East Kilbride.
The Hamilton-based AM100 car retail group became the latest franchisee to adopt the Japanese brands new corporate identity with the opening of the new standalone dealership on Braeview Place, Nerston.
Located just a stone's throw from the group's existing Kia dealership, the new facility – formerly the group's BMW Motorrad franchise – features a state-of-the-art service department, a vehicle configuration area and enhanced customer waiting area.
Sales manager, Kyle Bryson, said: ''It's been an exciting journey creating our bright and spacious new dealership and the team are looking forward to sharing the enhanced experience with both our existing and new customers in both our sales and service environment.
"The customer buying experience has been enhanced which will give us a better opportunity to deliver a greater customer experience. We've already had lots of positive feedback and ensure this will cultivate in time".
Spencer Clayton-Jones, director of network development and customer quality at Nissan, said: ''We send the team at Nissan East Kilbride every good wish as they settle into their new home and embark on an exciting new era.
''The dealership looks tremendous and showcases our cars in exactly the right way. We're sure our customers will love it – congratulations to all concerned.''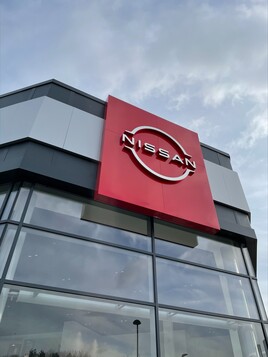 Last week AM reported that Trenton Motors had become one of the latest Nissan retailers to implement the brand's new CI with the reopening of its Grimsby showroom.
The network's transformation comes as the brand prepares for the arrival of a host of new electric vehicles (EV) to its model line-up.
Last month the Renault, Nissan and Mitsubishi alliance has revealed plans for 35 electric cars by 2030 following investment of 23bn euros during the next five years in common platforms, connected mobility and pure electric powertrains.
Among the first new additions to the Nissan range will be the new Ariya EV SUV.