A vast stash of supplies from motor retail workers to help Ukrainian refugees fleeing the Russian war has been delivered to the town of Zamosc in Poland.
The mercy mission, coordinated by former bodyshop boss Steve Taylor in Poland plus Autoclenz executive Steve Jones and former dealer group director Lisa Ford in the UK, ensured that essentials from sleeping bags to sanitary items, food and medicines reached the town in eastern Poland which has been inundated with people seeking safety from Russia's attacks on Ukraine.
With the support of Mercedes-Benz Retail Group, Autoclenz and Big Yellow Storage the group amassed donations from motor retail employees and others and sent off the first van load on Friday afternoon.
On Saturday, Essex-based Lisa Ford shared a photo of the arrival: "The two Steves, same motor trade history but their paths had never crossed until today when Steve Jones, having driven for 24 hours alongside Jevgenij Derevianko, met Steve Taylor in Zamosc to deliver the aid donated by those in the motor industry alongside the people of Essex. It's fair to say it was an emotional meeting."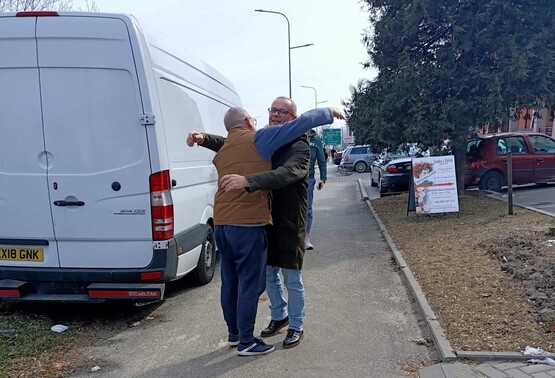 Taylor, who used to be a director of a London accident repair group, has lived in Zamosc for several years since he emmigrated to Poland.
Ford also thanked Ross Daverson, managing director of Arden BMW and Mini, for its amazing donation of £10,000 to Steve Taylor's JustGiving page which is directly helping the Ukranian women and children refugees in Zamosc.
"For anyone in doubt of the scale of the crisis facing small Polish towns like Zamosc, Steve Taylor witnessed over 2,000 Ukrainian women and children arriving on Wednesday night alone, only to find there was no room anywhere to be housed. The situation is both desperate and constant," she said.
"Whilst this van load will go some way to alleviate some of the demand it is by no means the end of the demand."
Anyone who wouild like to support the project can visit Taylor's JustGiving page here or there is an Amazon wishlist of donations here.