Arnold Clark chief executive Eddie Hawthorne has reported an "excellent" 2021 financial performance with revenues up 25% as pre-tax profits rose 68%.
Revenues for the AM100 car retail group increased to £4.7 billion (2020: £3.8bn) as profit before tax reached £263 million (2020: £156.5m) in a financial period impacted by dealership closures extending beyond the first quarter of the year.
Hawthorne told AM that the soaring profitability had been achieved without the need to utilise Government's Coronavirus Job Retention Scheme (CJRS), which would have been available for around 700 staff during Q1.
The £5.7m of rates relief during the first four months of the year, when our showrooms were closed, however.
Hawthorne described the Arnold Clark's performance as an "excellent result" in an "eventful year" before discussing his cause for "cautious optimism" in the remainder of 2022.
Arnold Clark has completed its refranchising of all but one of its former Toyota dealerships in Scotland with Kia, MG and Hyundai, after exiting the Japanese OEM's franchise, while serving its termination with Ford.
It also recently completed the acquisition of Glasgow's Central Car Auctions business and has plans to create four new locations in England as an outlet for some of the large volume of stock it is buying through its Sell My Car online car buying platform.
The Group's finances remain in a strong position with net funds available of £393.2m. Given the availability of funds, the board chose to increase the level of used stock held at the year end to over 37,000 vehicles – 11,000 units above the Group's typical stock holding.
During 2021 Arnold Clark sold a total of 224,071 used cars, up 9.5%% on 2020, while new car sales rose 22.1% to 56,780.
But commenting on the evolution of Arnold Clark's used car operations, Hawthorne told AM: "We're probably buying around 50,000 cars a year with Sell My Car and that's getting too much to turn at the rapid rate that we want.
"Acquiring Central Car Auctions is part of a strategy that allows us that end-to-end remarketing capability and we're looking to grow that in England with new sites, which may be physical or digital."
Expansion in England
To support its expansion in England, Hawthorne said that five large scale vehicle preparation centres in Nottingham, Stafford, Chesterfield, Warrington and Wolverhampton will be operational in the first half of the year.
There will also be "new concept Click & Collect centres, redesigning the future of retailing, in Solihull, Leyland and Linwood", he added.
Plans are also afoot to add to Arnold Clark's EV Innovation Centre network.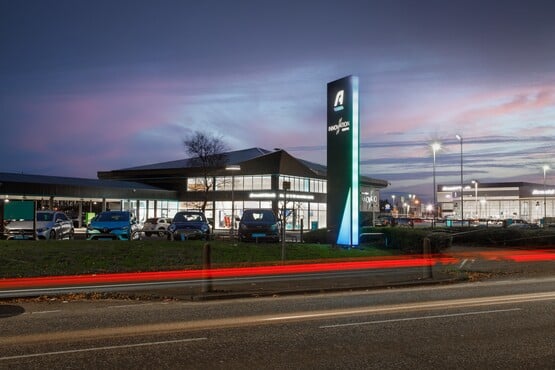 The innovative project, designed to help car buyers learn about zero-emissions transport, was started at a site in Glasgow.
Hawthorne told AM that a new centre will be opened within the group's Motorstore facility, in Stafford, at the end of May.
Last year saw Arnold Clark generate 50 million web sessions, with users up 28% to 19 million.
There has now been 384,000 downloads of the Arnold Clark app and 92% of all service bookings are made online.
Further highlighting the efficiencies resulting from the evolution of its paperless processes, 32,000 vehicles were delivered through its stand-alone Click & Collect service in 2021.
'Cautiously optimistic'
Commenting further on the group's plans for the remainder of this year, Hawthorne said: "I remain cautiously optimistic about 2022 given the satisfactory start to the year.
"There remains continued uncertainty in the motor industry, driven primarily by the vehicle supply constraints in the market.
"We do, however, enter 2022 with record order banks for both our retail sites and contract hire business.
"With strong levels of funding, we remain well placed to capitalise on the opportunities that the challenging conditions bring.
"The success of our Click & Collect and Click & Deliver services has enabled us to expand the national footprint of our used vehicle business, without the requirement for significant capital investment.
"In 2022 we are looking to continue with this expansion of retail outlets and supporting infrastructure."