Arnold Clark chief executive Eddie Hawthorne has praised the "passion and grit" of employees at Scottish car retail group after its 2020 annual financial results showed a pre-tax profit of £156.5 million.
Despite the COVID-19 enforced closure of car dealerships across its network and the temporary furloughing of 12,000 staff, the Glasgow-based AM100 group delivered a 33.7% rise in profits before tax as overall group revenues declined by 14.9% to £3.8 billion (2019: £4.7bn).
And Hawthorne paid tribute to the response of staff as he reported the strong result, produced against the backdrop of an £800m loss in revenues year-on-year, and 65,000 fewer vehicle sales, between March and June last year.
He said that he had been "humbled by how people responded with passion and grit" to the challenges posed by the pandemic, adding that the crisis had "brought home the importance and resilience of our staff, reminded us to focus on the basics and has highlighted the positives of being a well-funded and prudently-run family business with a long-term view."
In an interview with AM last summer, Hawthorne conceded that he had initially been naïve about the impact of COVID-19.
Speaking in June, he said that his first reaction had been that the health crisis would have "all blown over in two to three weeks" but asked "how naive was I?"
In its latest financial results Arnold Clark said six of its dealerships did not reopen after the first lockdown, while the business' headcount was cut and a renewed focus was placed on its already well-established Digital Journey in a bid to drive sales amid social distancing measures.
The group received £64.3m in Coronavirus Job Retention Scheme (CJRS) funding between March and October last year and benefitted from £11m in business rates relief.
It also took advantage of the VAT deferral scheme to delay the payment of £44m, however this sum was repaid in February.
Its digital focus served to mitigate the impact of COVID-19 triggered market disruption, however.
It generated 15 million web visits, resulting in 351,000 enquiries during the reported period, while 304,000 people used online aftersales check-in service.
The outcome was a used car sales volume down by 20.2% to 204,627 (2019: 256,376) for the year as a whole, with new car sales outpacing the market with a decline of 26.5%, to 46,509 (2019: 63,310).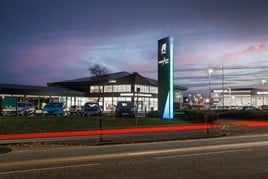 Arnold Clark took the decision not to furlough any of its staff in the second UK-wide lockdown, from November last year, and it also progressed network developments in certain areas.
New dealerships were opened in Leeds, Shrewsbury and Warrington and Hawthorne said that he was "proud" to open the group's new EV Innovation Centre in Glasgow.
Last month he told AM that he planned to repeat that project, which aims to educate the car buying public on the potential of EV ownership, with a new location in England.
With net funds of £524m also available to the business, Hawthorne said in the group's results statement that Arnold Clark remained in a position to "take advantage of market opportunities where they arise."
Amid its efforts to ensure financial stability throughout the COVID-19 crisis, Arnold Clark continued to support its charitable partners.
The group's financial results statement revealed that it had made 1,000 vehicles accessible to keyworkers free of charge and provided 120 minibuses to Hospital Trusts during 2020.
It also donated £100,000 to Cash For Kids and £150,000 to Ben.