Marshall Motor Group has succeeded in condensing the operations of three Audi premium car dealerships into one flagship location with the opening of its new Audi Centre in South East London.
The AM100 car retail group's chief executive, Daksh Gupta, said that the decision was made to relocate Marshall's Audi Centres in Sydenham, Bromley and Beckenham to a single retail site following a strategic review of its Audi representation in South East.
The result of the project was the creation of a new, £7.2 million three-storey Audi Centre on Chaffinch Business Park, Beckenham, containing a nine-car showroom and 17 bay workshop facility, developed by Square One Construction.
Gupta said: "The relocation of our existing Audi Centres in Sydenham, Bromley and Beckenham to this fantastic new South East London hub represents a substantial investment for Marshall and demonstrates our commitment to both our customers, our colleagues and Audi, as one of the UK's largest retail partners.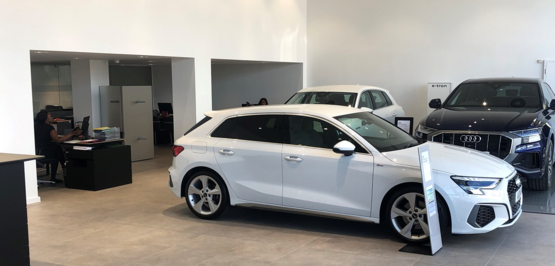 "Audi South East London is a stunning destination facility. Upon arrival the customer benefits are evident – additional customer parking, electric charging points plus with sumptuous lounge areas and hospitality facilities we have the base to deliver both exceptional and memorable customer experiences."
Marshall Motor Group is currently awaiting its formal takeover by Constellation Automotive Group after the BCA and cinch owner gained the regulatory approvals required from the Financial Conduct Authority (FCA) to complete its acquisition.
The development of its Audi South East London site is one of several recent dealership investments made by the group.
Among the newly-developed businesses is the £12m Motorline Toyota and Lexus dealership in Bristol and its redeveloped Volvo Car UK and Jaguar Land Rover dealerships in Peterborough.
Last week, the group's Marshall Hyundai Gloucester dealership was named Best in Customer Service at the 2022 AM Awards, while Marshall Volkswagen St Albans won EV Dealership of the Year.
Commenting on the opening of the new Audi dealership this month, Marshall Audi franchise director Tim Murphy said: "The opening of the South East London in Beckenham is an extremely exciting time for the team and look forward to welcoming customers.
"Audi South East London is a timeless, modern and contemporary environment – the perfect space to discover the Audi new and approved used range and great facilities for aftersales customers too.
"Everything has been designed with the customer in mind. The Centre is a new space for the future."