Marshall Motor Group has completed the first phase of the redevelopment of its Volvo Car UK and Jaguar Land Rover dealerships in Peterborough.
A new Volvo Retail Experience (VRE) showroom has been completed at the AM100 PLC's multi-brand premium car retail site off the city's Mallory Road in the first part of a process which will also deliver a new Jaguar Land Rover (JLR) Dual Arch concept dealership.
Marshall's Jaguar and Land Rover franchises were previously divided by the Swedish premium car brand's showroom, but a restructure has seen Volvo moved to one side to allow the brands to share a redeveloped facility which meets the brand's latest corporate identity (CI) standards.
The new Volvo showroom, completed in a £2 million redevelopment, features VRE's signature lounge area and interior glazing between the showroom and workshops.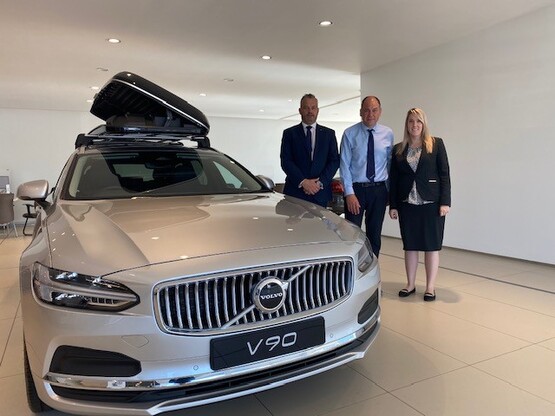 Dominic Meacham, the general manager at Marshall Volvo Peterborough, said: "We are delighted to officially open the doors to our new home, not least because this impressive new development reflects our commitment to improving customer experiences and efficiency.
"After the record-breaking successes of our new Volvo models over the last year, we felt this was the perfect time to invest in an impressive new showroom that puts electrification at the forefront of our approach, and with an ultra-modern interior, the future of motoring has certainly arrived at Marshall Volvo Peterborough.
"We look forward to welcoming prospective and current customers down for a cup of coffee, to discuss their purchasing and servicing needs and the future of electrification."
In addition to its new look, Volvo Peterborough has also been expanded to accommodate a Volvo's growing range of petrol, hybrid and fully electric vehicles (EV) ahead of its transition to becoming a wholly EV brand by 2030.
Volvo Car UK retailers helped to deliver a 4% rise in new car registrations – from 46,408 to 48,260 – as it outpaced a market up by 1% in 2021.
Dealerships across the UK are now awaiting the arrival of the new C40 Recharge, the brand's latest EV, as it aims to continue its growth in 2022.