Pendragon will open the doors to its first CarStore Experience Centre this weekend as it targets "first-class in person experiences for any customer" with its reimagined used car retail division.
The newly-created 9,800 square metre car retail site, located off East Side Road, Chesterfield, forms a blueprint for future CarStore developments, placing the focus on a new hybrid purchase model customers "the freedom to approach the process in a way that revolves around them", the AM100 PLC said.
Pendragon's new used car retail concept is being realised four months after the retail group revealed its plans to restructure its CarStore operations with chief executive Bill Berman admitting that initial assertions that the operation would be re-branded may have been "a little hasty".
Under its new plan Pendragon is aiming to leverage its 150-site scale and add 10 new standalone CarStore locations to offer customers access to a choice of 15,000 to 20,000 vehicles in any way they choose.
Berman said that the mix of physical and digital sales processes would provide "greater choice and flexibility" than market newcomers Cazoo, cinch and Carzam.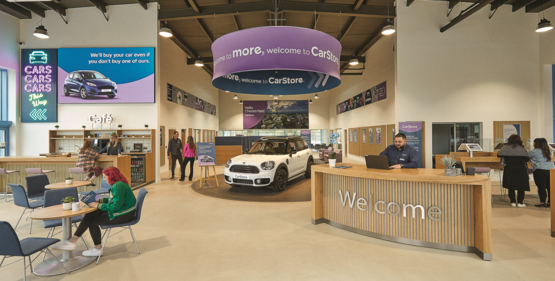 The new Chesterfield centre will offer visitors the opportunity to explore 400 vehicles on-site.
A 311 square metre "indoor experience centre" features LED lighting powered by solar panels on the roof, has electric vehicle (EV) charging points and an outdoor handover and Sell-Your-Car bays serving the group's car buying service.
There are also café facilities, seating areas, interactive displays, consultation booths and a visitor lounge.
A dedicated aftersales facility is currently under construction directly across the road from the new experience centre and is due to be completed later this year.
This weekend's opening incorporate a new driver day offering road safety advice, vehicle demonstrations and a chance to meet British Touring Car Championship racing driver, Ash Hand, who drives for the CarStore Power Maxed Racing team.
CarStore managing director Mark Akbar said: "We are really excited that our state-of-the-art Chesterfield Experience Centre is opening.
"We have been looking forward to welcoming the public into one of our new CarStore facilities from the day the plans were finalised and it is fantastic that this day has now arrived.
"We feel our hybrid approach sets us apart from the competition and new centres, like the Chesterfield facility, allow for first-class in person experiences for any customer, no matter their needs."
Pendragon initially revealed plans to restructure its CarStore operations into a digitally-led retail offering back in 2020.
The move is part of a growth strategy which it hopes will deliver an underlying profit before tax of £85m to £90m by 2025.
CarStore's restructure has been a key component of Pendragon's restructure since the departure of former CEO and founder Trevor Finn.
In 2019 the group announced its plans to close 22 of its Car Store used car supermarkets and one vehicle preparation centre after detailing a £32.2m underlying pre-tax loss in its H1 2019 financial results.