Arnold Clark is set to retire 70-year-old Harry Fairbairn car retail branding ahead of plans to open a new BMW Mini dealership in Glasgow.
The AM Awards-winning AM100 car retail group will rename a total of nine Harry Fairbairn BMW and Mini dealerships across Scotland under the Arnold Clark banner in a bid to "unite the brand".
The move comes 16 years after Arnold Clark acquired the car retail group and ahead of the opening of an all-new showpiece BMW Mini showroom in Glasgow's Hillington Park later this year.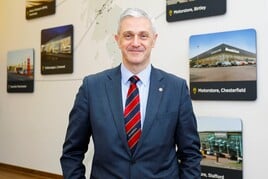 Arnold Clark chief executive and group managing director Eddie Hawthorne said: "With the digital journey becoming increasingly important, uniting our franchises under a single name allows us to give our customers the best possible experience across every space.
"Arnold Clark is a national brand and one that people can trust, so as we move to the future, it helps our customers understand the diverse range of franchises we have to offer, particularly in the premium market."
Harry Fairbairn was originally a small cycling and motorbike business when it launched in 1952, with its first BMW dealership opening in Irvine in 1971.
The newly-relaunched Mini franchise joined the business in 2001.
Arnold Clark's new BMW Mini showroom in Hillington Park sits on a nine-acre site, located close to the group's flagship Renault/Dacia/Alpine branch and Head Office.
The 5,600 square metre, two-storey facility will house 45 BMW and Mini vehicles, with a further 150 Approved Used vehicles on show outside.
There will also be a 28-bay workshop which will specialise in servicing BMW's motorsport-inspired M range.
Arnold Clark BMW and Mini franchise manager Callum Rankin said: "For our existing customers, nothing is changing other than the name above the door.
"Arnold Clark has worked closely with BMW and Mini for a number of years, and as we enter this new era, we'll continue to deliver a premium experience."
Arnold Clark secured the 2022 AM Awards Retailer of the Year, Dealer Group of the Year (more than 10 sites), Used Car Dealer of the Year and Community Hero awards at AM's prestigious annual event in London last month.
The wins came less than a week after Hawthorne revealed details of the group's future strategy in an interview with AM.
He revealed plans to expand its recently-acquired Central Car Auctions business to four new locations in England after reporting an "excellent" 2021 financial performance with revenues up 25% as pre-tax profits rose 68%.