Motorvogue has opened the doors to a second multi-brand car dealership in less than a month as it continues to accelerate its investment in the brands of franchise partner Stellantis.
The Northampton-based AM100 car retail group has opened the doors to its new Citroen, Fiat and Abarth in Bury St Edmunds less than four weeks after opening a new Alfa Romeo and DS showroom in Norwich.
In May 2023, Motorvogue also plans to add a Peugeot dealership to the site which is already providing used cars also an approved aftersales service for Stellantis' Peugeot, Alfa Romeo, Jeep, Citroen, Fiat and Abarth.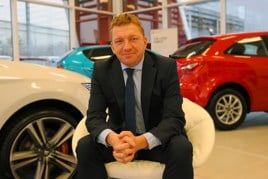 Commenting on the group's new franchise additions, group managing director Jonathon Pochin said: "I would like to thank my team for all their hard work and commitment that has enabled us to transform a tired dealership within Bury St Edmunds into a stunning Stelllantis multi brand centre.
"The site has undergone a full renovation both inside and out and both my senior team and our contractors have worked tirelessly over the past few weeks to enable our latest dealership to proudly open today."
Motorvogue has recruited a new general manager for its Bury St Edmunds site in the form of former Inchcape brand manager Nathan Williamson.
Service manager Ben Kaye, meanwhile, has joined the business from John Banks Group.
Pochin said: "I believe we have assembled a great team at the site to compliment the fantastic facility we have, and I personally welcome our new site management team of Nathan and Ben to the group and look forward to working with and developing our new venture with them and their teams over the weeks and months ahead."
Motorvogue's Bury St Edmunds development reflects a drive towards multi-brand retail and aftersales facilities for Stellantis' brands.
Earlier this month the OEM expanded the range of cars available through its approved-used car programme, SPOTiCAR, to allow customers to access models from Fiat, Jeep and Abarth retailers.
In December Vertu Motors completed a £600,000 investment in a new Bristol Street Motors aftersales service centre, in Harlow, which specialises in Stellantis brands Vauxhall, Citroen, and Peugeot.
In February Robins & Day also added Fiat and Abarth brands to its existing Peugeot and Citroën showrooms in Sale and Birmingham Central as part of an ongoing Stellantis multi-brand car dealership drive.
The changes come as Stellantis implements a restructure of its operations that will bring franchise contract terminations by 2023 and an agency model shift within four years of that point.