West Way Nissan Stockport and Bristol Street Motors Halifax have completed the UK's first customer handovers of the Japanese carmaker's new Ariya electric vehicle (EV).
The arrival of the long-awaited zero-emissions follow-up to the big-selling Leaf comes as the brand implements a restructure of its network which will reduce its UK franchised retail network from around 166 to 140 sites.
Nissan's new EV era began in the UK when West Way Nissan Stockport customer Christy Ashe picked up his Nissan Ariya 63kwh Advance in Aurora Green, while Bristol Street Motors Halifax customers Anna and Gerry Murphy ordered a similarly specified car.
West Way new car sales manager Ben Gellatly said: "There was a huge amount of excitement surrounding the handover and the customer is actually one of our master technicians.
"A current Nissan Leaf driver, he took one look at Ariya on our launch day in May and decided to have one. Who better to be an advocate for the car? He is over the moon and will happily tell anyone how great it is.
"Of course, we were delighted to supply Christy with his new car and we wish him many years of happy motoring. ARIYA is a truly stunning vehicle and we're thrilled to start fulfilling customer orders."
Handovers of the Ariya have begun less than four months after Nissan denied speculation that the car's UK launch would have to be delayed due to supply issues.
West Way Stockport, meanwhile, is one of 13 of the OEM-owned sites being sold off by Nissan.
While other West Way sites have secured named buyers, no group has yet been linked to the purchase of the Stockport site.
At Vertu Motors' Bristol Street Motors dealership in Halifax new and used car sales manager Kristian Spear said the business had been "glad and honoured" to help its loyal customers Anna and Gerry take their first step into the EV world.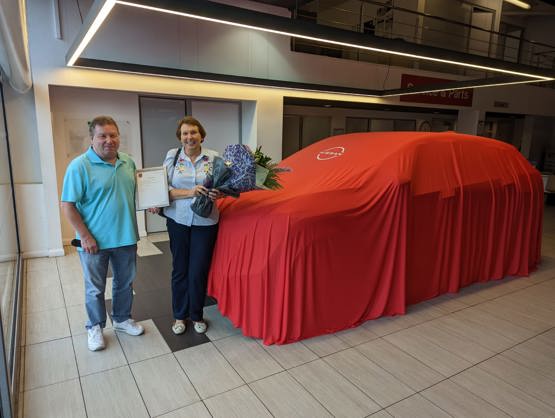 Satisfied customer Anna said: "I have to say, the team at the dealership were great. They were super-excited about the car themselves and their enthusiasm was really inspiring."
Nissan Ariya prices start at £43,845 and the new EV SUV is capable of delivering a range of up to 329 miles.
However, in a recent news insight feature in AM magazine some Nissan retailers revealed that their sales of the car would be short-lived after they were handed two-year terminations notices, with little or no notice, as part of a retail network restructure one described as "cloak and dagger".
In response to AM's reports, Nissan GB claimed that it had been taking "every measure possible" to engage affected retailers in an "open, frank and personal way".