Motorvogue is set to join the Peugeot franchise with the addition of a new dealership in Bury St Edmunds after vowing to invest a further £2 million into showroom improvements.
But a spokesperson for Desira Group, which currently operates its Peugeot franchise on Bedingfeld Way, Bury St Edmunds, told AM it remains open for business and under contract with the Stellantis-owned French brand.
Northampton-based Motorvogue said in a statement that it will follow-up June's opening of a new Alfa Romeo and DS showroom in Norwich and July's opening of a new Fiat, Abarth and Citroën site in Bury St Edmunds with its seven-figure investment in site openings and refurbishments over the next three years.
The addition of Peugeot to its Bury St Edmunds multi-franchise facility from May 2023, and more Peugeot franchises in future, forms part of a plan that will grow its dealership portfolio from 30 to 35 locations, it said.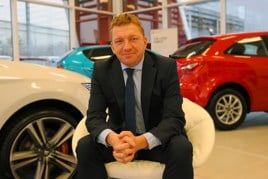 Managing director Jon Pochin, who first aired his intention to pursue a multi-brand dealership approach in a 2017 dealer profile feature with AM, said: "We've made significant investments this year to maintain group momentum, both commercially and in extending our footprint in key territories.
"We're also continuing to add new franchises for brands that are aligned with our values and ambitions.
"We're excited about adding a new Peugeot franchise to the fold next May, enhancing the breadth of new car options at our enhanced Bury St Edmunds location."
Founded in Northampton in 2008 as a solus-brand motor retail operation, Motorvogue now represents 12 brands from 30 showrooms and recorded a turnover of £71.4m in its financial year to the end of June 2021, alongside a profit before tax of £433,700.
This compared to a turnover of £87.1m and a pre-tax loss of £58,839 in the previous, heavily COVID-19 impacted, trading period.
Back in March Motorvogue appointed two new regional directors as part of a growth plan to accelerate its turnover by 70% to £200 million by June 2025.
Guy Twiselton took on the new Midlands and Cambridgeshire division after re-joining the group from Endeavour Automotive, where he was Volvo and Polestar franchise director. He has also held Rockar, Marshall and Ridgeway.
Simon Taylor leads Motorvogue's Norfolk and Suffolk division after being recruited as a sales director from Cheshire-based Mangoletsi.
Pochin said: "We have a highly engaged team that underpins our growth strategy, and we are actively recruiting at many of our locations."