Car dealer group Arnold Clark has goodie bags and refreshments on standby to welcome motorists into its Glasgow Innovation Centre for World EV Day.
It is appealing to drivers curious about alternative fuel cars to come to its centre to experience some of the 60+ electric cars available to test drive and to find out how they could make their commute a zero emissions journey.
It promises visitors will learn what kind of impartial and well-researched advice the centre can offer them on electric vehicles, e-mobility and grants.
On World EV Day on September 9 it will have a range of alternative fuel experts will be on hand all day, from its Innovation Centre geniuses, to advisors from its Bumblebee home charge point installation service, and from Arnold Clark Charge, with details on its ultra-rapid charging network and funding options and advice available through Energy Saving Trust.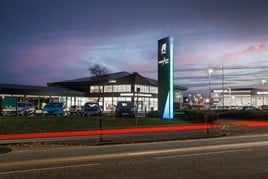 A spokesman said: "If you've been thinking about making the switch to electric, then find out everything you need to know this World EV Day with Arnold Clark. We'll be showcasing all the fantastic innovations that have been driving the automotive industry towards an electric future and how they can help revolutionise your commute."
Arnold Clark was the first AM100 dealer group to open locations dedicated to alternative fuel vehicles (AFVs), focused on education and building experience of EVs and charging rather than winning a sale.
Its first opened in Glasgow, Scotland, in 2021 and it has since opened a second in Stafford, England.