Many car dealers are still "missing out on the full potential of digital retailing" according to a joint report created by Auto Trader, ICDP and the National Franchised Dealers Association (NFDA).
While those who rapidly accelerated their development of online retailing in response to remote selling stipulations enforced by Government's COVID-19 mitigation measures are reaping the rewards of more efficient sales and positive customer engagement, many have yet to embrace technology, it found.
The study found that over half of retailers (54%) are yet to introduce longer operating hours, 55% haven't changed staff pay policies (bonus system), 42% are yet to offer a no quibbles return policy, and nearly two thirds (64%) are yet to offer new customer service roles.
Spelling out the need to embrace digital retail and offer customers an omnichannel car buying experience, ICDP managing director, Steve Young, said: "With evolving consumer car buying behaviour and the emergence of new well-funded competitors, digital retailing as part of a broader omni-channel strategy is critical for the continued success and future growth of car retailers."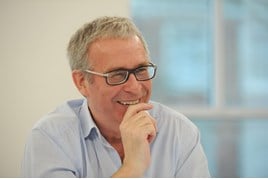 Young, who discussed OEMs' shift to agency model retail and other industry trends in the latest AM News Show Podcast, added: "Over the past two years the industry has experienced significant pressure to accelerate the implementation of digital retailing elements, and from our research it is clear that those who are focusing their efforts on this area are the ones who will reap the rewards. They will also be in the best place to face off to the new competitors."
Change equals improvements
Survey data from Auto Trader found that 72% of 5,000 people surveyed find digital car buying appealing, which is up from 61% in 2020.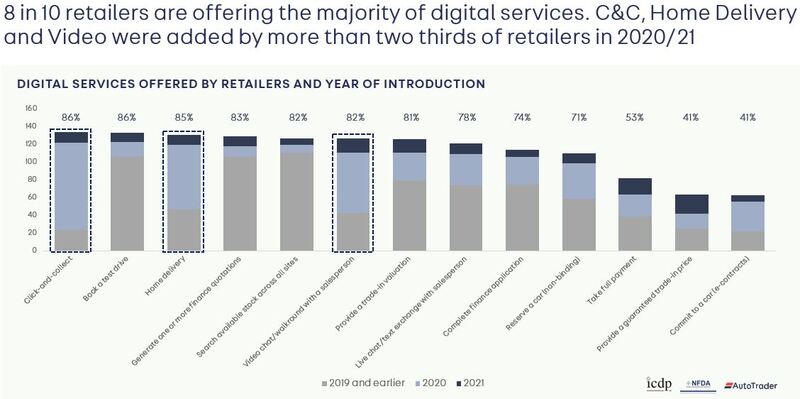 Studies conducted by ICDP found that eight-in-10 car retailers now offering a range of digital services, such as enabling consumers to complete a finance application online (83%), place a reservation online (71%), or apply for a guaranteed part-exchange valuation (41%).
Click and collect (86% 2021 vs 15% 2019), home delivery (85% 2021 vs 30% 2019), and video chat (83% 2021 vs 28% 2019) saw the biggest growth in adoption, with more than 80% of retailers introducing these services since 2019.
The join digital retail report sought to highlight the gains realised by car retailers who have moved towards omnichannel car retail.
ICDP survey data showed 72% of retailers offering online trade valuations are seeing at least one-in-four customers using it, while 67% are seeing the same proportion of their customers generating an online finance quote.
One-in-five (19%) retailers offering click and collect are reporting over half of their customers using the service.
Asked how their operating model had changed since they had embraced these tools, the joint AT, ICDP and NFDA report found a strong correlation between improved efficiency and also the sales per salesperson in the data, relative to those who had adopted more of the digital retailing services.
In addition, at least six-in-10 believed they are already experiencing strong value from all of the services implemented and expect it to increase even further over time.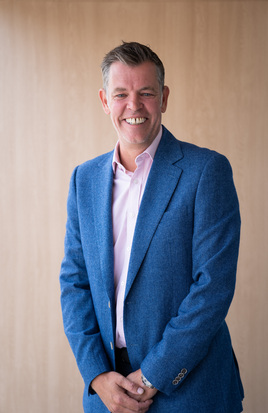 Sales increases
Neil McCue, chief operating officer of Snows Motor Group, which took part in the survey, said: "We firmly believe that online sales will continue to grow and will play huge part of our business moving forwards, and so we continue to look at ways in which we can improve our online journey.
"Our sales executives have total confidence in dealing with online sales enquiries and by using our video technology to interact with customers we are seeing sales increase."
Commenting on the findings of the joint report, Auto Trader's commercial director, Ian Plummer, said: "While behaviours are changing, it doesn't mean everyone is going to buy every car in an end -to-end online journey.
"This research tells us that retailers should think 'digital first' to make these services and tools available where they meet the needs of their customers.
"Don't think about them separately, but rather as part of how you operate overall and make sure they're really connected into your forecourt experience as most consumers will be completing at least some of the jobs on the forecourt for some time to come. So, it's crucial to enable that in a joined-up way."
National Franchised Dealers Association (NFDA) chief executive, Sue Robinson, said: "Embracing digital retailing is vital in today's marketplace. The most successful businesses are those that offer a variety or routes to their customers to start and complete their vehicle buying journey."