The Financial Conduct Authority (FCA) has opened a consultation in a bid to ban car retailers' discretionary finance commission model – saving UK car buyers an estimated £165 million a year.
As previously predicted by industry commentators, the Authority's review had called for an outright ban on the use of Increasing Difference in Charges (DiC), Reducing DiC and Scaled commission models in a bid to end a situation which can see car dealers offering higher interest rates rewarded with higher commission.
The FCA said in a statement issued this morning (October 15) that a finance broker's ability to set that rate "creates an incentive for brokers to act against customers' interests".
It added: "Preventing the use of this type of commission would remove the financial incentive for brokers to increase the interest rate that a customer pays and give lenders more control over the prices customers pay for their motor finance."
The FCA's proposed move is now included in a consultation period which will now run to January 15, 2020, ahead of a proposed implementation of the changes in Q2, 2020.
Christopher Woolard, the FCA's executive director of strategy and competition, said: "We have seen evidence that customers are losing out due to the way in which some lenders are rewarding those who sell motor finance.
"By banning this type of commission, we believe we will see increased competition in the market which will ultimately save customers money."
The FCA is also proposing to make changes to the way in which customers are told about the commission they are paying to ensure that they receive more relevant information.
These changes would apply to many types of credit brokers and not just those selling motor finance.
The FCA said that a mystery shopping research exercise carried out last year found that just one out of 37 franchised retailers, four of 60 independent retailers, two of 14 car supermarkets and four of 11 online brokers communicated that a commission may be received for arranging finance.
It now proposes clarifying the CONC 3.7.4G and 4.5.3R rules regarding disclosure to ensure that firms consider "the impact commission could have on a customer's willingness to transact and that firms should consider whether and how much commission can vary depending on the lender, product or other permissible factors and tailor their disclosures accordingly".
It added that "the existence and nature of commission arrangements where the commission varies depending on the lender, product or other permissible factors should always be disclosed prominently."
"The disclosure must also cover how the arrangements could affect the price payable by the customer," it added.
Speaking to AM last month, the outgoing director general of the Finance and Leasing Association (FLA), Stephen Sklaroff, said: "In terms of the findings of the current review, I know that the FCA are fully aware of how complicated the sector is and they have to be sure that the solutions they come up with don't have unintended consequences."
In light of today's disclosure of its review findings, the FCA said: "We do not expect our intervention to result in significant unintended consequences for brokers or lenders.
"We know that, since we published our final findings, some firms have moved, or intend to move, away from using discretionary commission models in recognition of the harm they cause.
"We have been told that some lenders want to move away from these models, but are wary of losing contracts with motor dealers to those lenders that do not.
"Banning discretionary models would remove this potential disadvantage."
Responding to today's publication of the FCA's review findings, Sue Robinson, director of the National Franchised Dealers Association (NFDA), said: "Franchised vehicle retailers are committed to helping and providing clarity to the consumer.
"Clear rules are positive for the industry but we would urge that they are proportionate so there is a satisfactory outcome for both consumers and dealers. NFDA will be responding in depth to the consultation".
Adrian Dally, head of motor finance at the FLA, said: "Today's announcement is good news for the industry and consumers, as it delivers clear rules and a consistent approach to commissions. Many lenders have already moved to the commission models that the FCA is proposing."
To view the FCA's review findings and details of how to participate in the ongoing consultation on the proposed regulatory changes, visit https://www.fca.org.uk/publication/consultation/cp19-28.pdf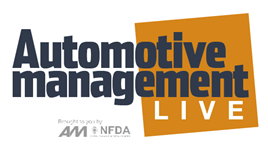 >> The FCA's motor finance review and its recommendations will be discussed at this year's Automotive Management Live Finance Theatre, bringing together inspiring keynote speakers from the field of motor finance:
Russell Kelsall, head of consumer & motor finance, TLT LLP; Neil Smith, business operations director, Imperial Car Supermarkets; and Karl Werner, deputy CEO, MotoNovo.
Book your free ticket for Automotive Management Live now.