The consumer car finance market achieved year-on-year growth of just 4% by volume and 7% by value during September – despite last year's WLTP-impacted decline.
Motor finance market data published by the Finance and Leasing Association (FLA) today (November 6) showed that new business in the point of sale (POS) consumer car finance market grew to 251,307 vehicles with a combined value of £4.28bn.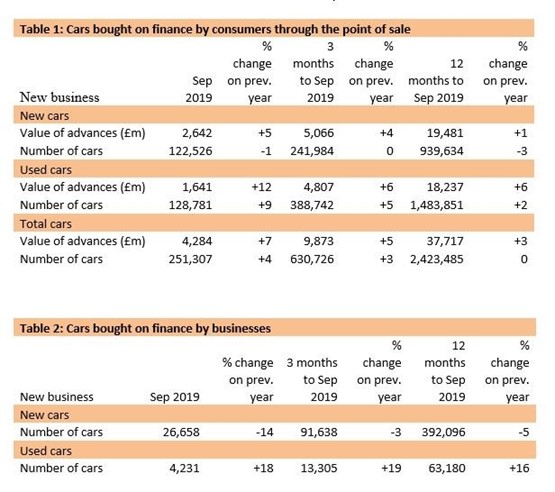 In Q3 2019 as a whole, new business grew 3% by volume and 5% by value, the FLA reported.
But the FLA's market data reflects a challenging market, delivering growth only in comparison to a period impacted by the September 2018 roll out of the WLTP fuel economy and emissions regulation changes which impacted vehicle supply and sales.
September 2018 delivered a 16% decline at the point of sale car finance volumes.
Despite the context of September 2019's growth, Geraldine Kilkelly, head of research and chief economist at the FLA, said: "In September, the POS consumer used car finance market reported its strongest growth since August 2018, which contributed to an increase in new business volumes of 5% in Q3 2019 as a whole.
"The POS consumer car finance market overall reported stable new business volumes in the first nine months of 2019, in line with expectations."
The FLA's September 2019 finance sector analysis showed that the value of new business in the POS consumer new car finance market grew by 5% in September compared with the same month in 2018, while new business volumes fell by 1% over the same period.
The percentage of private new car sales financed by FLA members through the POS was 91.1% in the twelve months to September 2019.
The POS consumer used car finance market reported new business in September up 12% by value and 9% by volume, compared with the same month in 2018.
In Q3 2019 as a whole, new business increased 6% by value and 5% by volume compared with Q3 2018, the FLA said.