Luxury car retailer Romans International has launched its Elev8 Finance broker arm to the wider market after funding more than £300 million of supercar sales – including a £3.5m Ferrari Aperta.
The Surrey-based ID50 independent car retail operation described Elev8 Finance as a standalone specialist independent finance broker designed to "look after the needs of high-net-worth individuals" in a statement issued this week.
Dealership owner Paul Jaconelli and his son Tom - profiled by AM in a car dealer face-to-face feature, here - have seen an increase in demand from outside the dealership's usual client base for finance and have now funded nearly 2,000 cars together worth more than £300m.
Jaconelli said that the decision was made to push the finance firm into the wider market after an influx of customers approached the business looking to refinance collectible cars in order to release cash, extend agreements or take payment holidays during the current COVID-19 coronavirus crisis.
Elev8 Finance's day-to-day operations are run completely separately to the Roman's International business by Mike McCann, formerly of GE Money and Fortis Lease Group.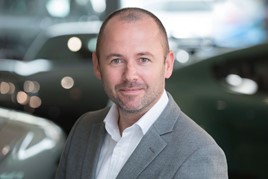 McCann said: "With the uncertainty in the market and the importance of giving customers the right guidance, now feels like the right time to raise the profile of what our finance brand is striving to achieve while giving customers the right information so they can make informed decisions.
"This also means other dealers can benefit from Romans' relationships as well as their buying power, which can enable them to sell more profitably and more seamlessly."
Elev8 customers benefit from the broker's strong relationships with banks and finance companies, which include Santander Consumer Finance, Aldermore Asset Finance, Hitachi Capital Business Finance, Alphera Financial Services, Blue Motor Finance and Metro Bank.
McCann says Elev8 Finance's unique position working with Romans International's diverse client base has given it unique experience when it comes to supporting clients' diverse needs.
"It's quite a challenging experience dealing with the complex assets of high-net-worth clients and understanding the workings of a client's balance sheets and tax affairs in order to give comfort to the banks and finance institutions who are ultimately lending the money," he said.
He added: "Ultimately, the numbers don't lie, and despite only operating for a short while we are writing a huge amount of business and getting great customer feedback."