The biggest story in March was undoubtedly AM magazine's exclusive on Vauxhall's plans to cull a third of its dealer network.
Franchisees told AM that PSA Group planned to de-list more than 100 of Vauxhall's 324 UK retail locations within 12 months, placing up to 3,800 motor retail jobs at risk. The story was picked up by the BBC, The Times, The Daily Mirror, The Sun, The Daily Mail, and the Independent.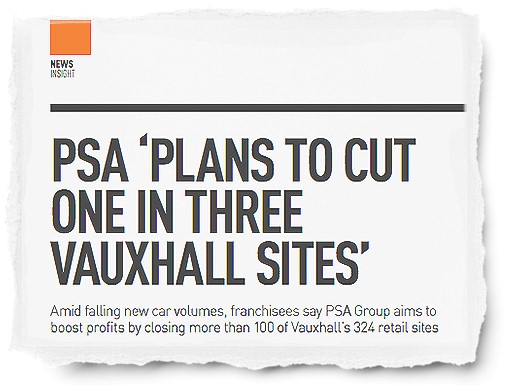 The theme was repeated with Hylton Group closing Renault and Dacia showrooms; Pentagon closing its Fiat and Peugeot joint franchise dealership in Keighley; and Slaters of Abergele closing its Nissan Abergele dealership.
Tributes were paid to Dax Pearce, Vertu Motors' project general manager, following his death in March. The "number one Alfista" had previously worked for Lookers, Benfield and Reg Vardy.
In the independent sector, a classic car collector, Mike Tuke, started High Court proceedings against JD Classics for about £9 million after alleging that the trader invented fictitious buyers and sellers to boost its sales profits. An administrator for JD Classics, Alvarez & Marsal Europe LLP (A&M), secured a buyer for the business in September.
More positive developments included Trade Centre UK's announcement that it was to open Europe's largest used car showroom in Coventry; Group 1 acquired Robinson's Mercedes-Benz dealerships, confirming Darren Guiver as its UK boss; and Marshall Motor Holdings reported a 19.5% increase in turnover and a 14.4% rise in underlying profit before tax in a set of annual financial results hailed as "excellent" by chief executive Daksh Gupta.