Electricity suppliers will muscle into the car retail and ownership space as electric vehicle (EV) adoption accelerates and car dealers will lose out if they don't act now, a conference has heard.
Carl Bayliss, the vice-president of mobility and home energy at Centrica, and Graeme Cooper, electric vehicles project director at the National Grid, were among those warning of the emerging trend at the National Franchised Dealers Association's (NFDA) EV Marketplace Seminar.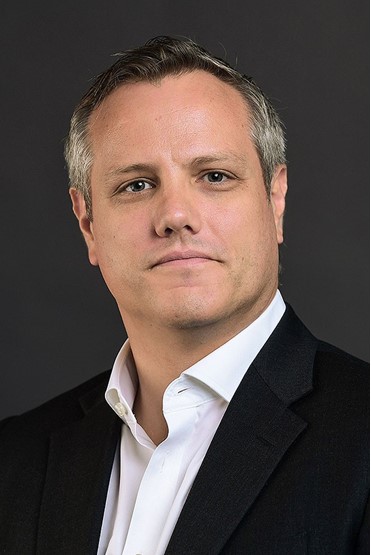 Bayliss, who also spoke at the MHA MacIntyre Hudson Motor FD Forum on Electric Vehicles, said a key component of the advent of the connected EV would be the potential to link vehicle sales with home energy tariffs and urged retailers to forge partnerships now to deliver these new deals.
"The coming generation of electric and connected vehicles will require many of us to converse in a different language. The key is to learn that language now, to start planning now," he said.
The Society of Motor Manufacturers and Traders (SMMT) reported that more than one in 10 new car registrations during November was either hybrid, plug-in hybrid or pure electric – equivalent to 16,052 cars.
Pure EV registrations rose 229% year-on-year to 4,652 (2018: 1,415).
Back in October, the SMMT forecast that EV registrations will rise 89.3% with the arrival of new models in 2020, pushing market share up to 2.9%. In 2021, the SMMT expects a further 49.1% increase in EV sales, taking market share to 4.2%.
But these projections pale next to those of Quentin Le Hetet – general manager of automotive data and research at GiPA Group UK – who told delegates at Automotive Management Live 2019's IMI People Theatre that the UK's AFV market share could swell to 65% by 2025 (see event coverage on page 58).
Energy equals engagement
Some manufacturers have already started down this path – Volkswagen, for example, has established a new company, Elli, offering zero-carbon energy offerings and charging solutions.
Bayliss said the adoption of electric cars would bring changing customer expectations, and car retailers without access to manufacturer energy offerings such as Elli should consider partnering with energy companies.
Without such tie-ups, he suggested, the ability of energy companies to communicate with EV owners through apps and connected home energy platforms, such as Hive, could see them assume a commanding position.
"The whole concept of mobility as a service is built around the connected customer," said Bayliss.
"Think about the additional services you can offer as a retailer. What about a white-labelled British Gas energy tariff for your customers, bundling the vehicle with the required home energy solution and charge point?
"The car is set to become a mobile powerplant in a connected world and you need to build that in to your business."
At MHA MacIntyre Hudson's Motor FD Forum on Electric Vehicles, both Bayliss and MHA VAT director Glyn Edwards highlighted Octopus Electric Vehicles as one business that had already identified the opportunity to create a home and vehicle energy solution.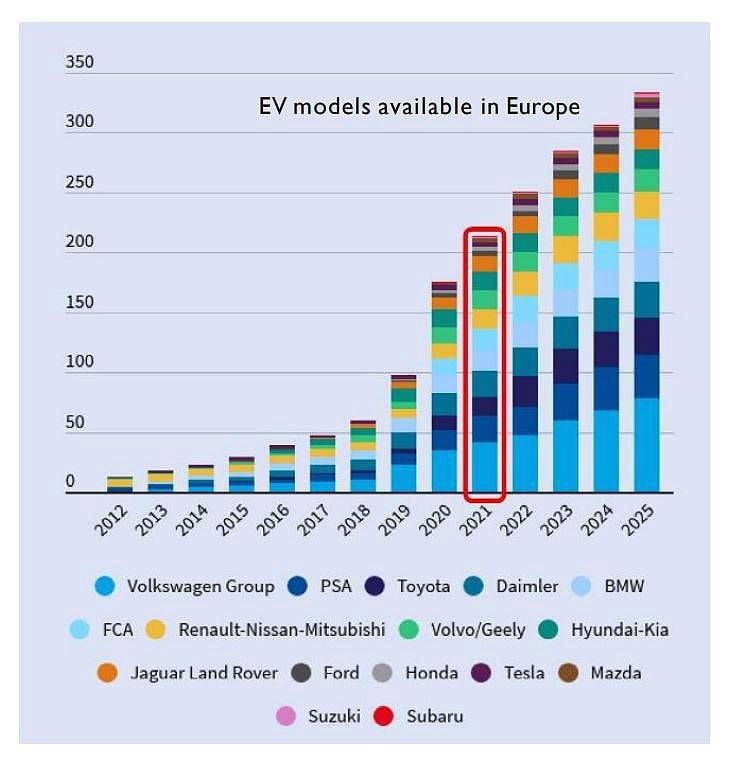 Essentially an online leasing broker, Octopus combines an EV lease, home charging provision and its own renewable energy tariff into a single package.
It is also using the vehicle-to-grid (V2G) functionality of the Nissan Leaf to put power back into the system, in a package which offers £30 cashback on its monthly £299 plan for customers who plug in their car overnight at least 12 times a month.
Edwards suggested that the rise of PCP and PCH-driven monthly payment car ownership options meant motorists would welcome the opportunity to consolidate their home energy into the same monthly payment.
And he pointed out that ensuring renewable energy is used to power the UK's EVs should be central to the Government's Road to Zero push to reduce vehicle emissions.
"The impact of EVs on carbon emissions is far less than people imagine," He said. "If you're drawing your electricity off the European grid generally there is a positive impact, but only after 435,000 miles.
"Get a renewable system like Norway or France and you get a far more realistic figure of around 18,000 miles.
"But people believe in this and they are going to start buying…"
It is clear that Government policy will play a big part in rapid EV adoption, however, even if it is ultimately forced to introduce road charging to plug the funding gap left by lost fuel duty.
How Norway sells electric vehicles
Sophus3's 'EV Index' study questioned why online consumers' growing interest in EVs – 126% in Q3 alone, according to the study – was not yet translating into adoption in the UK.
The study ranked Europe's 'Big 5' car retail markets – Germany, the UK, France, Spain and Italy – on their EV-readiness, with scores given out of 100 in a range of categories, including: consumer interest; affordability and choice; and charging infrastructure. A score of 100 represents complete readiness across all pillars for a shift to EV.
When held against the 43-point score of Norway, the world leader in EV adoption, the UK (27 points) and the rest of the European Big 5 trail far behind.
Sophus3 said "Norway shows what is possible when conditions are right to promote the adoption of electric vehicles, scoring 15 points higher in the EV Index than the next highest country, Germany."
Edwards pointed out that VAT on an EV in Norway is 0%, compared with 20% for an internal combustion engine (ICE) car.
He said UK EV owners will have already realised the tax advantage, with motorists paying an average of 8.41p-per-mile for an internal combustion engine (ICE) car, compared with about 0.21ppm for a zero-emission equivalent charged at home.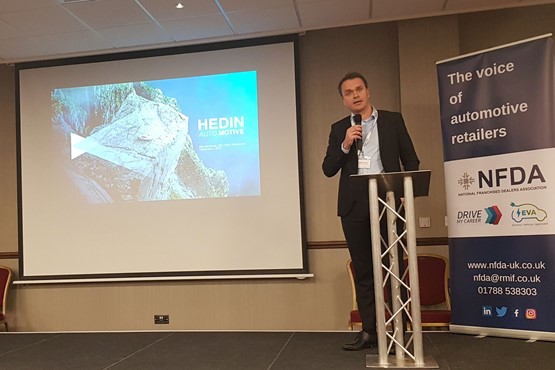 At the NFDA's EV Marketplace Seminar, Stig Saeveland, the chief executive of Sweden's Hedin Automotive Company, explained how incentives that make EVs more affordable can accelerate a change in mindset across society.
He said: "I have a customer who had just bought a BMW X5 M, but he conceded that he had started to feel awkward in certain social situations and it's happening more and more.
"It's reached a point now where people don't necessarily buy an EV because they want to be an environmentalist, but they avoid buying an ICE for fear of being branded inconsiderate."
Saeveland said his BMW business became more profitable following Norway's promotion of EVs, but conceded that it had suffered a 20% decline in vehicle sales and 50% decline in parts sales.
"We have adapted, moved fast and been agile. It has not been easy, but we have shown that it's possible and we're positive about the future," he added.
The value of reputation
Data published by the SMMT shows that EVs will deliver the largest market growth in 2020, on the way to manufacturers having 250 zero-emissions vehicles available by 2022.
While the impact will be felt by retailers in the near term, such growth is required if manufacturers are to avoid huge fines in the event that they a fail to meet EU CO2 emissions targets of 95g/km next year.
MHA's head of motor, Steve Freeman, told the NFDA EV Marketplace Seminar that PSA Group faced a potential fine that would amount to 25% earnings per share by 2021, VW faced a 13% fine, Mercedes-Benz's parent company, Daimler, 9% and BMW 7%.
Duncan Forrester, the former head of brand communications at EV brand Polestar, said the fines, which would come "year after year after year" could prove "bankrupting" if not avoided by the swift introduction of EV products into the market.
Addressing the NFDA event, Oliver Larkin, head of group corporate and public relations at Volkswagen Group UK, said VW could afford to pay its €4 billion (£3.4bn) fine for failing to meet its emissions obligations.
But he said: "We could afford to pay that, but we cannot afford it from a brand image point of view. Our image would be trashed. We've done enough damage on our own."
Volkswagen is taking no chances with its EV policy. The preliminary hearings of a High Court UK class action against VW over dieselgate, backed by 90,000 motorists, were taking place at the High Court as AM went to press.
But, as manufacturers and dealers speed towards a future with EVs it intends to be completely carbon neutral by 2050.
Larkin said: "The car industry simply has to do something. The current situation is just not sustainable."