Glasgow Rangers FC will continue to benefit from online used car retailer cinch's a £8 million sponsorship of the Scottish Premier League (SPL), despite refusing to display its branding.
The football club has been locked in a stand-off with league officials over the deal since it was struck ahead of the 2021/22 football season claiming that it breached its existing arrangement with club chairman Douglas Park' s AM100 car retail business Park's Motor Group.
Other clubs in the league feared losing their share of the £1.6 million-per-year agreement if Constellation Automotive-owned cinch withdrew as a result of the stand-off.
But Rangers obligations to wear cinch branding on their shirts, and display it around their Hampden Park ground, have been waived as part of a "revised cinch contract" agreed by the league's other clubs and cinch.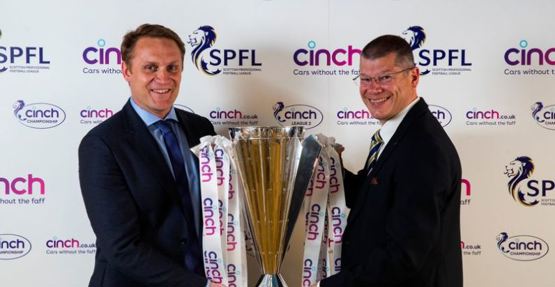 SPFL chief exec Neil Doncaster: "Under the terms of the revised cinch contract, Rangers are no longer required to participate by providing the sponsorship inventory that they have so far not provided, whilst, crucially, the overall income to Scottish football is expected to remain materially unchanged over the original five-year term of the sponsorship.
"This revised package has now been approved by cinch Premiership Clubs."
Doncaster added: "It's extremely good news that we have been able to work with our partners at cinch to develop an updated sponsorship package which delivers the same level of financial support to Scottish football, whilst providing additional SPFL media assets to cinch to compensate for loss of Rangers related rights.
"It is testament to the strength of our relationship with cinch, and the high value they place on it, that they have agreed to move forward with us on this basis."
A spokesman for cinch said: "We welcome the evolution of our agreement with the SPFL and are proud of our continued investment into Scottish football across all four cinch SPFL leagues. We are very much looking forward to next season and to continuing the stellar growth of our business in Scotland."
Speaking to the Daily Record, a Rangers spokesman described the changed terms of the cinch sponsorship deal as "a full vindication of our stance throughout the past season".
Last month the Daily Record reported that Celtic's 2021/22 Scottish Premier League title victory could have eased tensions over a car retail sponsorship row involving cinch.
A fortnight later a YouGov poll suggested that the spat may have boosted cinch's profile alongside its high-profile TV advertising campaigns.
Constellation Automotive's cinch online car retail platform emerged as YouGov's UK Automotive Advertiser of the Month in May.
Commenting on Rangers' bid to protect the profile of the AM100 car retail group through refusing to endorse cinch, YouGov said: "If the aim was to reduce awareness of Cinch's advertising, our data shows that it clearly has not worked."
The Scottish Premier League stand-off has not put cinch off footbal sponsorships. Last month it announced that it had struck a deal to become Crystal Palace's shirt sponsor for England's 2022/23 Premier League season.