Car retailers should be urging electric vehicle (EV) customers to switch to variable 'smart' electricity tariffs amid warnings of an eight-fold surge in home charging costs.
With the raising of energy price caps by 77% in October and further increases in January next year expected to add up to £1,500 a year hike in bills Ohme has highlighted the importance of EV-specific tariffs on maintain affordable zero-emissions travel.
And the use of a smart tariff and smart charger to minimise the impact on bills is advice that car retailers should be sharing.
Ohme chief executive David Watson said: "It's great that so many drivers have made the switch to an electric vehicle, but if they're not already on an off-peak tariff, those drivers need to quickly review their options to protect themselves from these future wholesale price rises.
"Our advice at Ohme is to speak to your existing electricity supplier and see if they offer an off-peak tariff such as Octopus or OVO Energy.
"If they don't, then look at switching suppliers to one that does so that you can off-set the impacts of these significant price increases that experts are predicting."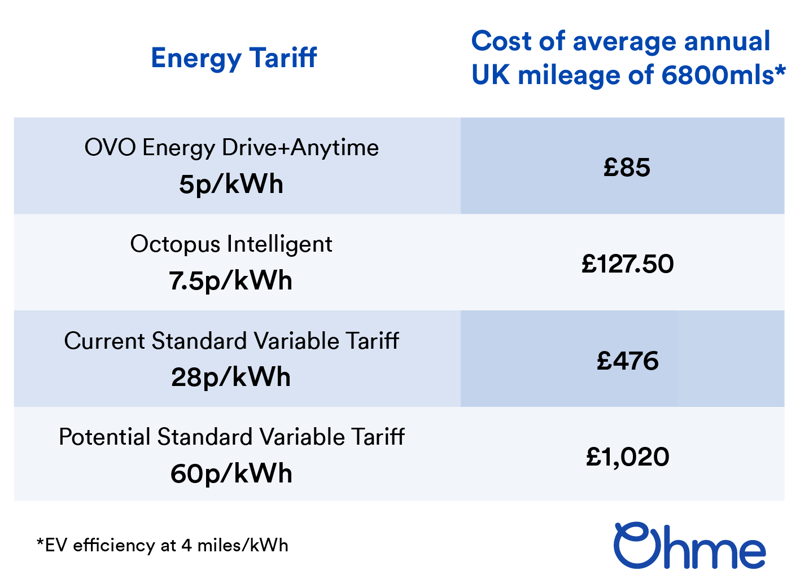 Many energy sector experts expect the Standard Variable Tariff set by Ofgem to increase around 60p per kWh (up from the current 28p/kWh) this winter.
EV drivers using an off-peak smart tariff today can expect running costs equivalent to 1.9 pence per mile.
The likes of the Octopus Intelligent tariff at 7.5p/kWh would cover the typical motorist's 6,800-mile annual mileage for just £127.50.
A current Standard Variable Tariff of 28p/kWh could be set to rise to 60p/kWh, however, meaning that those same 6,800 miles would cost an EV driver £1,020.
Smart chargers can connect with the national grid in real time and automatically adjust its charging for drivers to take advantage of all the times of low price charging with smart off-peak tariffs.
Ohme's charger offers drivers the option to charge their car when renewable energy generation on the National Grid is at its highest, further lowering their CO2 impact.
According to a survey conducted by CarGurus, Brits' long-term appetite for EVs is in decline with 59% of people saying they expect to own one in the next ten years, compared to 66% last year.
Its findings were published days after Jato Dynamics reported that Europe's electric vehicle (EV) and plug-in hybrid sales suffered their "biggest fall on record" in June.
Affordability could be the main barrier to EV adoption, with Auto Trader continuing to re-state its suggestion that zero-emissions personal transport will remain the "preserve of the rich" without targeted incentives.