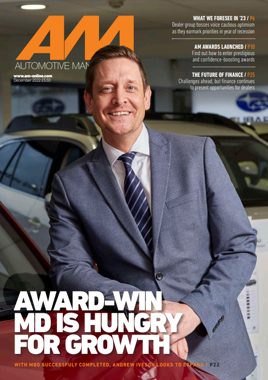 Livingstone Motor Group's growth ambitions, the AM Awards 2023 launch and all the content from AM Live 2022 are all packed into the latest edition of AM magazine – out now.
Available to read in digital form by clicking the links here, the December issue is packed with all the latest news and insight from across the UK's automotive retail sector.
Inside, we give details of how businesses could make 2023 a winning year with entry to the AM Awards 2023.
The AM Awards 2022's DP/GM of the Year, Livingstone Motor Group managing director managing director Andrew Iveson, tells us how his business is primed for growth after securing an MBO and three new franchised partners to breath new life into the former Mitsubishi franchise.
A special AM spotlight theme, meanwhile, gives insight into the future of the motor finance sector – advising on where opportunity lies for car retailers.
AM provides all the seminar content from the Automotive Mangament Live 2022 car retail expo at the Birmimngham NEC in easy-access on-demand form.
And that is not all.
Car retail business leaders also consider how the sector's traditional performance KPIs might have to be thrown out of the window as they look ahead with "cautious optimism" at a 2023 trading period which will add recessionary pressures to 2022's supply chain woes.
Elsewhere, we give a launch report overview of the GWM Ora Cat EV, there's an in-depth look at the Society of Motor Manufacturers and Trader's (SMMT) November registrations figures, a supplier profile interview with Dealer Auction chief executive Le Etta Pearce, an '8 minutes with…' Q&A with Jim Mackenzie, group sales director at Dicksons of Inverness, and much more…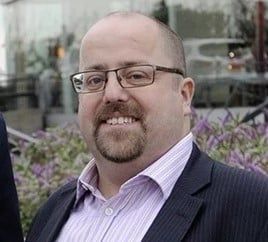 Seeing out a challenging but rewarding year for the automotive retail sector in his editor's comments, AM editor Tim Rose said: "That a year 2022 has been. Back in January who would have expected that in the months ahead we'd have three different prime ministers plus a national period of mourning, a change of monarch and inflation reaching double figures?
"I hope your business has met your objectives and your workforce celebrated every success despite the prevailing conditions.
"Heading into 2023 there will be more change to embrace, including even more digital efficiencies and introduction of agency or mock-agency agreements in some dealer networks.
"So, for automotive managers it will be vital to be flexible in the execution of your plans and, most importantly, to overcome the barriers to success and be an inspiring leader to your teams.
"Even in an economic recession there are plenty of car buyers, and others who'll need maintenance of the car they're keeping hold of. So your dealership has to be hungry and competitive to win their business.
"Look for every opportunity. Motivate well, and reward generously. And before you know it, 2023 will be just another successful year.
"Wishing you a Merry Christmas, and a prosperous New Year."