At Automotive Management Live 2019 yesterday 15 UK dealerships were highlighted as great employers in the automotive industry.
The results of AM Best UK Dealerships To Work For, run in partnership with Best Companies Group, and sponsored this year by Car Benefit Solutions, found that 15 dealerships made the grade in our third year of the programme, out of the 25 or so who participated this time.
That was an increase of four from last year.
The overall top ranked dealership was Devonshire Motors, a Mitsubishi franchisee at Barnstaple, Devon, headed by managing director Nathan Tomlinson (pictured).
The research found that it has employee engagement that surpasses all others this year. Devonshire Motors has a strong and respected leader, who encourages its staff to maximise their business opportunities, respect each other, and to work as a team, and is liberal with praise and recognition for great work.
Staff retention is extremely high. Staff say they can have a laugh and a joke and also pull together when under the cosh.
The full list of 2019 AM Best UK Dealerships To Work For are:
Chorley Nissan Blackpool
Chorley Nissan in Chorley
Chorley Nissan in Burnley
Chorley Nissan Preston
Devonshire Motors (Mitsubishi) in Barnstaple
Drayton Motors Kia in Boston
Drayton Motors Kia in Louth
Eurovans Eastbourne (Volkswagen Commercial Vehicles)
JCB Kia Rainham
JCB Medway (Volkswagen)
Johnsons Mazda Gloucester
Luscombe Motors (Mitsubishi and Suzuki) in Leeds
Monaghan Brothers (Ford) in Lisnaskea, Northern Ireland
Premier Ford in Newport, Isle of Wight
Roadside Garages (Kia) in Coleraine, Northern Ireland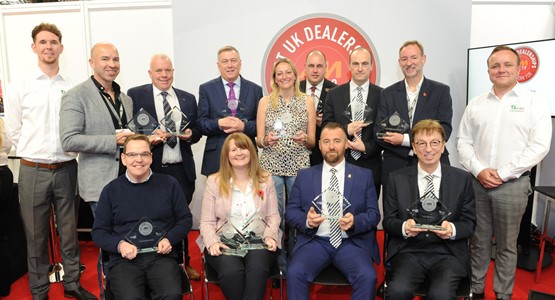 Picture: The winners of the AM Best UK Dealerships To Work For
In a summary of the research's findings, AM editor Tim Rose told AM Live 2019: "It's not all about the money. Nobody does the job for nothing of course, but workers at great employers in this industry say they're respected and cared about, and they have confidence in where their strategic leaders are taking the business.
"They feel they're not stuck in dead end jobs, they can learn new things and they can share opinions on how to make improvements that will be listened to.
"They value the sense of being part of a team, overcoming challenges together and minimising office politics.
"And no employer in our list this year underestimates the need for workers to have a bit of fun, to ensure coming to work is something staff look forward to."
The research process:
Firms from across the United Kingdom entered the two-part survey process to determine the Best UK Dealerships to Work For.
The first part consisted of evaluating each nominated firm's workplace policies, systems, philosophies, practises, and demographics. This part of the process was worth approximately 25% of the total evaluation.
The second part consisted of an employee survey to measure the employee experience. This part of the process was worth approximately 75% of the total evaluation.
The combined scores determined the top firms and the final ranking. Best Companies Group managed the overall registration and survey process and also analysed the data and used their expertise to determine the final rankings.
"Congratulations to all the AM Best UK Dealerships To Work For. Their great leadership, benefits and support for their workforce is commendable. Our industry is going through a tough period, and keeping staff happy and motivated to do their best work is all the more vital," said AM editor Tim Rose.
"This is the third year we've offered this free of charge programme for franchised dealers, and it is fantastic to see that we have a mix of dealerships winning for the first time plus a number who've gained the accolade again."