Lexus and Toyota topped the rankings of the 2019 What Car? Reliability Survey as Land Rover owners highlighted their vehicles as the least reliable new cars on the market.
The annual survey compiled from feedback volunteered by over 18,000 car owners, found that two-out-of-three of the most dependable new car models currently for sale are hybrids as the two Japanese brands topped the rankings.
Conducted in association with MotorEasy, the What Car? survey correlated reader feedback on vehicles up to five-years-old, rating them on the number of faults experienced over the previous 12 months.
It also took into account how long repairs took and how much they had to pay to get their vehicle back on the road.
Steve Huntingford, editor of What Car?, said: "With more than 18,000 motorists telling us about their ownership experiences, the What Car? Reliability Survey gives car buyers one of the most accurate pictures of long-term reliability. With some models suffering a near-50% failure rate, it shows how important it is for buyers do their research when purchasing their next car."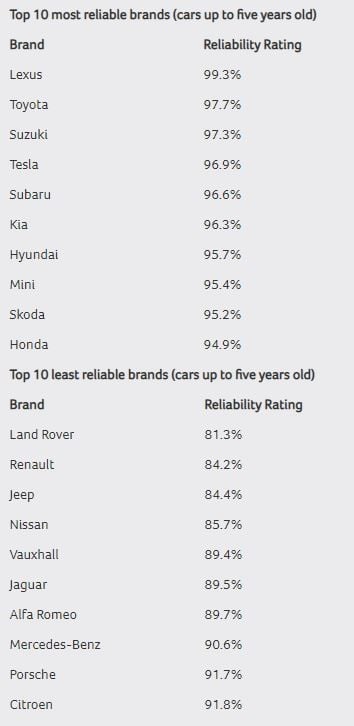 Kia's Soul, the Lexus CT Hybrid and Toyota Yaris Hybrid emerged as the most reliable models overall, with perfect 100% reliability ratings.
Although electric vehicles and hybrids have the best average reliability rating (96.1%) of the 10 car classes in the survey, not all cars with this technology are dependable.
Renault, which ranked second in the listings of least reliable OEM brands, behind Land Rover, saw its Zoe electric vehicle (2013 – present) score just 82.3% as 44% of owners said their car had suffered a fault.
A new version of the Zoe goes on sale this month, claiming a 242-mile zero emission range.
What Car? said that the worst vehicle class for reliability was Luxury SUVs at 86.5%, with the Range Rover (2013 – present) and Range Rover Velar (2017 – present) proving "the least bullet-proof".
Almost half of Velar owners (48%) said their car experienced a fault in the past 12 months, while 35% of Range Rover owners had needed to visit a garage, with battery issues most common.
Lexus emerged as the most reliable brand, with a 99.3% reliability rating, followed by Toyota and Suzuki as Japanese and South Korean brands dominated the top 10 brand reliability rankings, occupying seven of the places.
The worst brand for reliability was Land Rover, with an 81.3% rating, just below Renault and Jeep.
What Car? said that, of the 18,119 cars included in the study, 26% had experienced at least one fault, with the most common problem a non-electrical engine fault.
Diesel vehicles accounted for 58% of all faults.
When it came to paying for repairs, 11% of owners had to fork out between £101 and £200, while 3% of repairs exceeded £1,500.