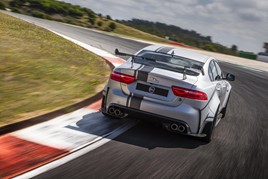 Jaguar Land Rover's (JLR) luxury and high-performance focussed Special Vehicle Operations division has reported a 64% year-on-year increase in retail sales across the globe.
The popularity of performance-oriented SV models such as the 550PS Jaguar F-PACE SVR and 575PS Range Rover Sport SVR in the OEM's network of 100 SVO specialist franchised retail sites helped to generate a total of 9,500 sales during the 2019/20 fiscal year.
The luxurious long-wheelbase Range Rover SVAutobiography, which claims to offer airline-style Executive Class seating, and the driver-focused 565PS Range Rover SVAutobiography Dynamic also proved a success, according to JLR.
JLR's growth was achieved despite the impact of the COVID-19 coronavirus lockdown period towards the end of the reported period, which triggered the 44.4% decline in UK new car sales, as reported by the Society of Motor Manufacturers and Traders (SMMT).
Michael van der Sande, the managing director of Jaguar Land Rover Special Vehicle Operations, said: "Despite a challenging sales environment for the automotive industry as a whole, we're delighted that the demand for Jaguar and Land Rover SV products continues to grow strongly, just five years after the division was first launched.
"We currently have our broadest-ever range of models offering enhanced performance and luxury, each with its own distinctive personality that resonates with our customers."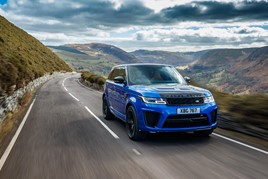 JLR's 575PS Range Rover Sport SVR remains its best-selling SV model, while launches of the 550PS Jaguar F-PACE SVR and Range Rover Velar SVAutobiography Dynamic – which both saw deliveries starting in 2019 – made significant contributions to the overall numbers, according to JLR.
The growth of SV product sales coincides with the roll-out of SV Specialist Centres in key markets and the establishment of dedicated SV areas at retailers, including the new Jaguar Land Rover Statement Site in Munich, Germany.
The OEM said that these retailers are trained to meet the exacting needs of SV's customer base and deliver the premium service expected from SV, including personalisation requests.
Last year AM reported how Farnell's Leeds JLR dealership was achieving success as an SV Specialist Centre after its operations director exploited his design background to deliver bespoke luxury vehicles to its customers.
Imaginative operations director Jatinder Aujla, who graduated with a degree in automotive engineering design but moved from design to retail early in his career, had proved central to its success, designing many of the 100 vehicles it had sold for as much as £250,000.
Commenting on the growth of the SV operation, Mark Turner, the commercial director of JLR's Special Vehicle Operations, said: "We've focused on satisfying demand for existing SV vehicles, while simultaneously expanding into new sectors with models such as the Jaguar F-PACE SVR, which instantly became our second highest volume vehicle.
"Developing the SV presence in the global Jaguar Land Rover retail network and on social media, in conjunction with SV Bespoke, is also having a positive effect on our business."
Special Vehicle Operations' SV Bespoke department – tailoring paint colour and finish, interior and exterior trim choices to create truly individual vehicles for customers – has also seen 20% growth in bespoke commissions and Premium Palette paint finishes for a selection of Jaguar and Land Rover vehicles.
In an interview with Autocar magazine coinciding with the SVO's division's launch in 2017, Gerry McGovern, Land Rover's design director, vowed to put third-party tuners and styling houses out of business by creating better variants of the brand's models through the company's own Special Vehicle Operations (SVO) division.
McGovern said: "It's easy to take a product that's already been created and put a little spoiler on it or whatever, but I'd like to see them design their own car. We see them taking our property and making a bit more profit.
"Well, we're going to put them out of business through SVO. The opportunities we're creating there, and the quality of our work, are much better."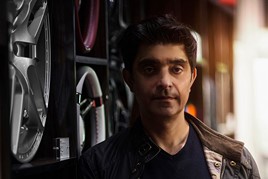 The creation of SVO – with the aim of stamping out businesses such as Kahn Design, Mansory and Overfinch – was a sensitive subject for Kahn Design founder, Afsal Kahn, when AM interviewed him back in 2018.
"Land Rover have just shut the door on us and said 'right, we're doing that ourselves'," he said.
"We have been part of the steppingstone for what they are doing. They have seen our success and decided to do it themselves.
"They're choking businesses like us."