A Lotus Turbo Esprit that was the final 'company car' of Lotus founder Colin Chapman is the first car to be included in the sports car maker's new Certificate of Provenance programme.
The 1981 model, which was also driven by UK Prime Minister Margaret Thatcher during a visit to Norfolk, was recently acquired and fully-restored by Lotus Cars and is set to join the company's heritage car collection.
The brand's new Certificate of Provenance is designed to add appeal to potential owners of Lotus cars from any era, however.
It is delivered in a 'For the Drivers' Lotus presentation box, which contains:
The Certificate of Provenance – printed on premium paper, this provides a summary of the car's details including the VIN, paint colour and specification. The certificate also notes the date on which the car completed its production at the Hethel factory and was passed to the Lotus sales team.
The Build Specification Letter – drafted using detailed vehicle information from the Lotus archive, this document provides more in-depth information about the car, including its engine, transmission, standard features and optional extras.
A personalised letter to the customer signed by Phil Popham, chief executive at Lotus Cars, thanking them for their purchase and updating them on the transformation which is taking place at Lotus.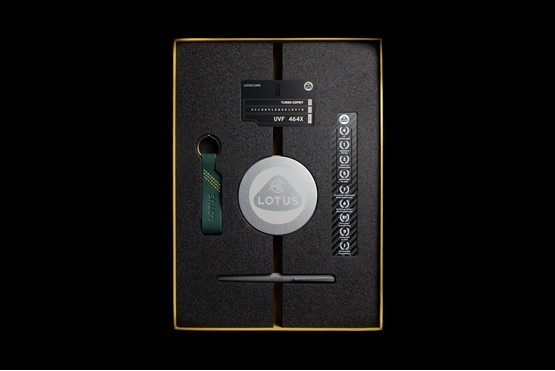 The three documents are presented in a black envelope placed inside the presentation box. Beneath it is a selection of Lotus collectables, including an aluminium plaque engraved with the owner's name and information from the Certificate of Provenance; a leather Lotus keyring; a carbon fibre bookmark featuring the brand's nine most significant motorsport laurels; a presentation tin of four badges; and a Lotus ink pen.
The Certificate of Provenance is available worldwide through Lotus retailers and costs £170 (+ postage).
Phil Popham, chief executive officer at Lotus Cars, said: "What better way to launch our Certificate of Provenance than by showing how it has validated the celebrated history of an iconic and unique Turbo Esprit. The Lotus archive is a fully catalogued database of information and can provide a wealth of insightful facts on any Lotus car from any era. It's the perfect gift for a Lotus owner anywhere in the world."
A fortnight ago AM reported that Park's Motor Group is poised to open a new Lotus Cars sports car dealership in Hamilton in preparation foras part of the brand's "exponential growth".
Last month Lotus Cars also announced the development of a new advanced technology centre and headquarters for its Lotus Engineering consultancy division, as part of a new partnership with The University of Warwick (WMG).
The venture will focus on the development of new low-carbon technologies to support the Government's vision to de-carbonise the transport sector.
Global director of sales and aftersales Geoff Dowding told AM, in an interview late last year, that investment at Lotus Cars is set to give its franchised dealer network a chance to boost their sales and profits next decade.
Dowding (pictured) said underpinning that is Lotus's route to market through its dealers, who globally achieved 1,630 new car sales in 2018, of which 274 were in the UK.
The brand's Vision 80 plan will deliver "exponential growth in the future" for Lotus retailers, Dowding said, and his team had begun examining the brand's global retail infrastructure to identify what improvements will be necessary in the coming years.