Mercedes-Benz was found to have the best overall brand health in the UK according to YouGov's 2021 Automotive Rankings.
The German car maker came out on top in YouGov's latest study, with an index score of 22.5.
The rankings are compiled using YouGov BrandIndex Index score, a measure of overall brand health calculated by taking the average of Impression, Quality, Value, Satisfaction, Recommend and Reputation scores. The rankings are measured from February 2020 to January 2021.
Mercedes had a 47.7 Quality score – higher than any other car brand in the rankings – with the next closest brand, BMW, scoring 42. Reputation (37.2) and Impression (33.7) are other areas Mercedes scored highly, again ahead of all other brands.
Ford placed second, with an Index score of 22. Its high score is mainly down to its high Impression scores (29.4), which indicate that the brand is positively regarded among Britons, however the brand scored higher than any other ranked car brand for value perception (22.8) and customer satisfaction (19.9) too.
Matt James, key accounts director at YouGov, said: "Mercedes-Benz has a high score thanks to having a higher perception of quality among consumers than any other brand, scoring 5.7 points more than BMW. Mercedes also scored highly due to its positive reputation perception and positive impression among consumers, demonstrating the importance of a brand's status in the public eye.
"Second-placed Ford earned its place in the rankings through its incredibly good value for money in the eyes of the consumer, and keeping its customers satisfied. What these rankings show is that while no car brand can score highly in every metric, this is entirely necessary to be named one of the top ten car brands for British consumers."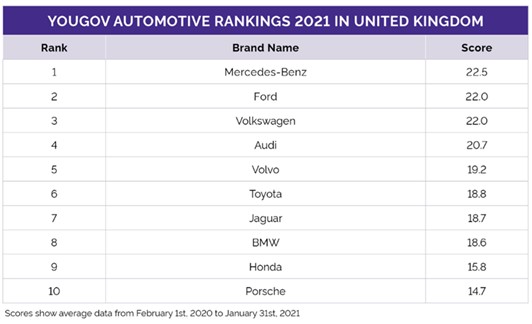 YouGov's ranking was published the day after Mercedes-Benz was placed third in the National Franchised Dealers Association (NFDA) Dealer Attitude Survey Winter 2020/21.
Lexus topped the NFDA's chart, while Mercedes shared third place with Kia and Toyota.
Toyota took fifth place in YouGov's table, but Lexus and Kia failed to make the top 10, showing a contrast in option between consumers and dealers.