Lexus UK has retained its title as the top-rated new car retail franchise in the National Franchised Dealers Association (NFDA) Dealer Attitude Survey Winter 2020/21.
The Japanese car brand attracted an overall rating of 9.5-out-of-ten – against a survey average of 6.3 – to match its Summer 2020 score and survey-topping position ahead of other regular top three finishers Kia (9.2) and Toyota (9.1), with Mercedes-Benz (9.1) tied for third place.
The survey attracted a 59.5% response rate from the UK's 4,346 franchised car retailers, with Lexus (89%), Toyota (88%) and Citroen (86%) retailers the most responsive. Just 21% of Suzuki GB franchisees responded, however, and 24% of Peugeot UK retailers.
Profitability ratings
Profitability was a core reason for the top scores, with Toyota scoring 9-out-of-10 and Lexus 8.8 when franchisees were asked to rate their current profitability. Kia was ranked third, with a rating of 8.4.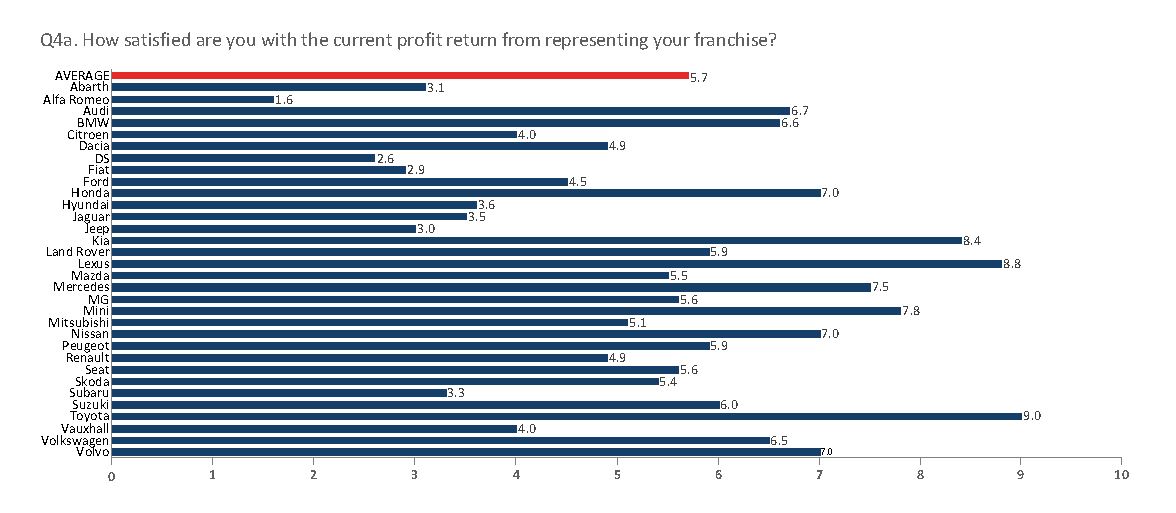 The least profitable, according to the surveys respondents were Stellantis brands Alfa Romeo (1.6), DS Automobiles (2.6) and Jeep (3.0).
The three top-rated franchises for current profitability also attracted the most optimism for future profitability from their retail partners.
Lexus (9.2), Toyota (8.9) and Kia (8.8) finished top again, with Alfa Romeo and Mitsubishi tied in bottom place in terms of their prospects of future profitability.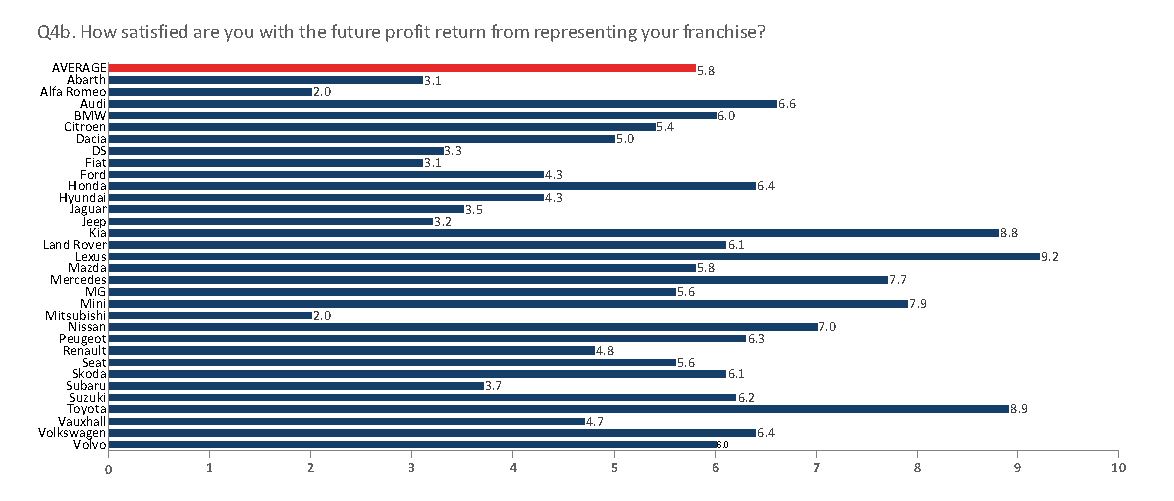 Negativity about Mitsubishi's future profitability will be closely linked to its withdrawal from the UK as a new car sales franchise.
Alfa Romeo's sales year-to-date were down by 63.7% year-to-date at the end of February, meanwhile, resulting in a market share of less than 0.1%.
EV and 'future retailing'
With 2020 marking a watershed year for the launch of new electrified vehicles, starting a trend that has accelerated in 2021, franchisees were asked to rate their OEM partner's alternative fuel vehicle (AFV) offering.
Toyota - top rated in the NFDA's EV Dealer Attitude Survey - and Kia tied for top place with ratings of 9.4-out-ot-10, against a response average of 6.4.
Toyota's range is fully electrified, with a plug-in hybrid (PHEV) Prius and Rav4, its Mirai hydrogen fuel cell vehicle and its first EV set to be revealed.
Kia's range features the eNiro and Soul EVs alongside PHEV versions of its Sportage XCeed and Ceed Sportwagon.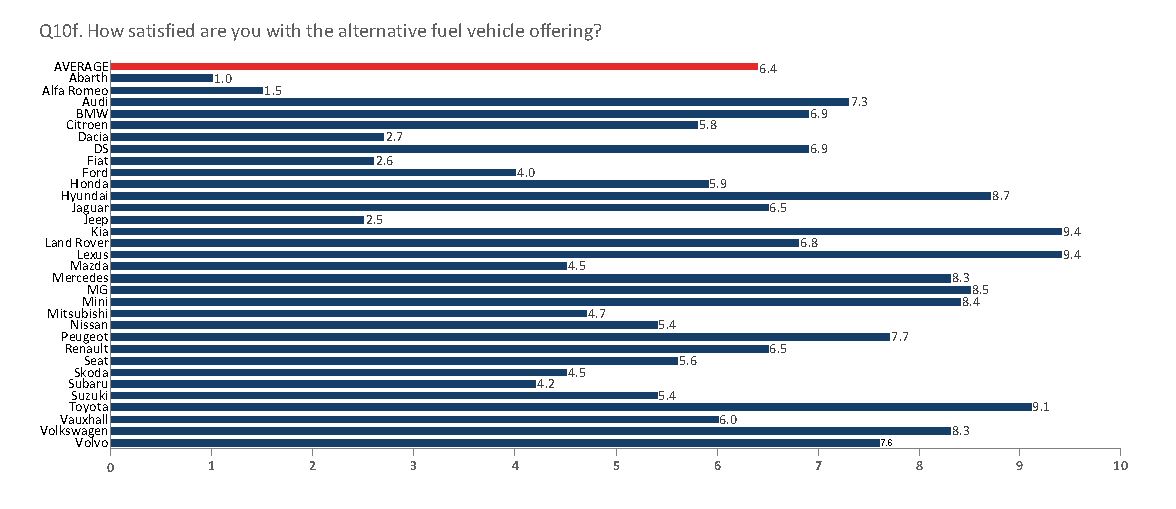 Ranked bottom for its current EV line-up in the NFDA Dealer Attitude Survey were Stellantis brands Abarth (1.0), Alfa Romeo (1.5) and Jeep (2.5).
In relation to future retailing channels, Mercedes-Benz finished top after moving decisively towards online retail in 2020, scoring 9.4 against a response average of 6.3.
Mercedes was followed by Kia (9.0) and Lexus (8.9).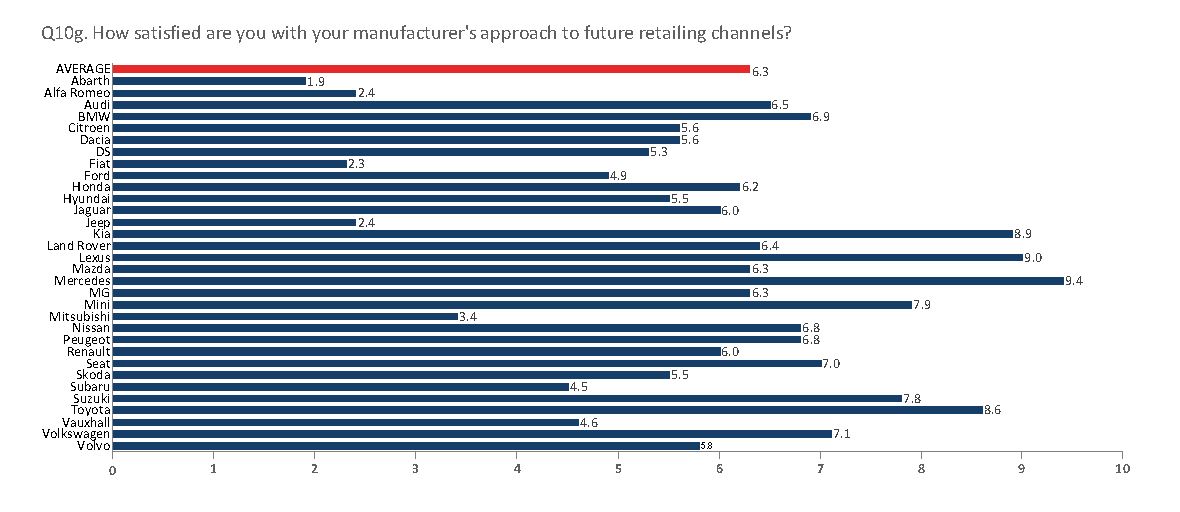 Bringing up the bottom-ranked spots were Stellantis' former FCA Group brands Abarth (1.9) and Fiat (2.3) with Jeep (2.4) and Alfa Romeo tying for third-bottom.
Volvo Car UK score of 5.8, well below with average of 6.3, despite its recent commitment to move towards a wholly online retail proposition starting with its EVs.