Stellantis is expected to announce details of its future plan for the Ellesmere Port Vauxhall site at a press conference at the Astra-producing plant tomorrow morning.
The OEM behind Abarth, Alfa Romeo, Jeep, Citroen, DS, Peugeot and Vauxhall brands is expected to announce that the facility will become a centre of production for its commercial electric vehicles (EV).
The move would bring an end to speculation regarding the site's potential closure after years of Brexit-related negotiations between PSA Group (now 50% of Stellantis) and the UK Government.
There has also been friction over the UK Government's plan to ban the sale of all petrol- and diesel-powered new cars in 2030.
Commenting on the ban earlier this year, Stellantis chief executive Carlos Tavares said that Governments can "create situations which destroy the business model".
He added: "If we are told that in 2030 internal combustion engines cannot be sold in the UK - which we respect as a decision from the country - then we are not going to invest in internal combustion engines anymore because that makes no sense."
Any positive move to secure Ellesmere Port's 800 workers would be seen as another positive move for the automotive manufacturing sector following Nissan's long-term commitment to its operation in Sunderland last week.
The future of the North-East car plant was been secured with the unveiling of a £1bn plan to create a neighbouring battery-producing 'gigafactory' and produce the Japanese brand's next EV.
Nissan's plan comes as the result of a partnership which also includes funding from the UK Government and Envision AESC, which will develop the new 9GWh gigafactory.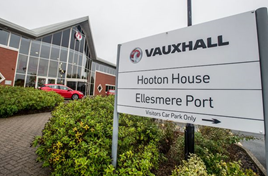 Reports in the national press over the weekend suggest that Stellantis' Ellesmere Port plans will also benefit from public funding.
Vauxhall is currently the UK's best-selling electric Light Commercial Vehicle (LCV) manufacturer, according to the Society of Motor Manufacturers and Traders (SMMT).
In the first half of 2021 its e-LCV sales topped 1,487, with the Vivaro-e generating 613 in June alone, making it the best-selling year-to-date in the a e-LCV sector.
In total, Vauxhall has sold 19,079 vans year-to-date, up 73% per cent year-on-year.
Vauxhall managing director Paul Willcox said: "As a British brand, I'm proud to see Vauxhall is leading the electrification of the UK van market with our multiple award-winning Vivaro-e.
"Vauxhall is all about democratising access to electrified vehicles and within a few months we will have an all-electric version of every van we sell which should further help to reduce in-use emissions and bring the lower running costs and user experience of driving electric to even more businesses in the near future."