Stellantis brands Peugeot, Citroen and Vauxhall have made their Rifter, Traveller, Berlingo, SpaceTourer, Combo and Vivaro MPVs EV-only with immediate effect.
In a move that aligns with the car manufacturing giant's move to make its Ellesmere Port plant its European centre for electric commercial vehicle production, it announced this morning (January 10) that sales of petrol- and diesel-powered people carrying versions of the four models have now ended.
Internal combustion engine versions will continue to be available in van form, however, along with specialist third-party conversions.
Citroën and Vauxhall have announced price reductions to the e-Berlingo and e-SpaceTourer, Combo-e and Vivaro-e MPV ranges to coincide with the shift to EV-only sales.
The price shift on selected models to continue to still qualify for Government's recently-reduced Plug-In Car Grant (PiCG).
The e-Berlingo now starts at £30,995, the e-SpaceTourer at £30,295, the Combo-e £30,110 and the Vivaro-e £30,395.
The Citroën ë-Berlingo and e-Combo both claim to offer a range of up to 174 miles, while the eight-seat ë-SpaceTourer and Vivaro-e claims up to 143 miles of zero-emissions travel between charges.
All the Stellantis EVs vehicles are capable of up to 100kW rapid charging, with an 80% charge takes just 30 minutes to complete.
Last August, Stellantis pledged to spend £25 billion in the next five years to establish a new generation of electrified vehicles and batteries.
The 14-brand OEM has set a target for electric vehicles (EVs) and plug-in hybrids (PHEVs) to account for 70% of its European sales by 2030.
Paul Willcox, the Vauxhall brand's managing director, said: "Vauxhall has set out a clear ambition to go electric only by 2028 and this is another step on that journey.
"We are focused on ensuring that the benefits of going electric are available, and affordable, to as many British motorists as possible."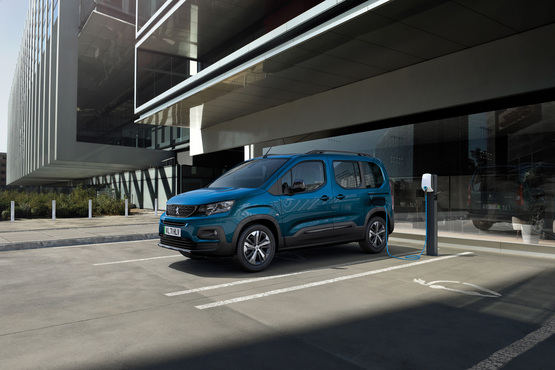 At Peugeot, managing director Julie David said that the shift to EV -only MPVs was a further show of her brand's commitment to electrification.
"Peugeot is committed to electrification, with a goal of offering a fully electric variant across our entire model line-up by 2024," she said.
"Already we offer a fully electric van across our entire LCV portfolio, so with our award-winning MPV range now exclusively available as electric vehicles, we're catering for the growing demand for zero-tailpipe emissions vehicles."
Peugeot's e-Rifter claims a range of up to 172 miles (WLTP) and is capable of up to 100kW rapid charging, with an 80% charge takes just 30 minutes to complete.
The eight-seat e-Traveller claims a 148-mile range between charges, meanwhile.